Heavy rains accompanied by gusty winds lashed parts of north and east India, including the national capital, on Saturday bringing relief from scorching heat but also claiming lives and leading to waterlogging and uprooting of trees.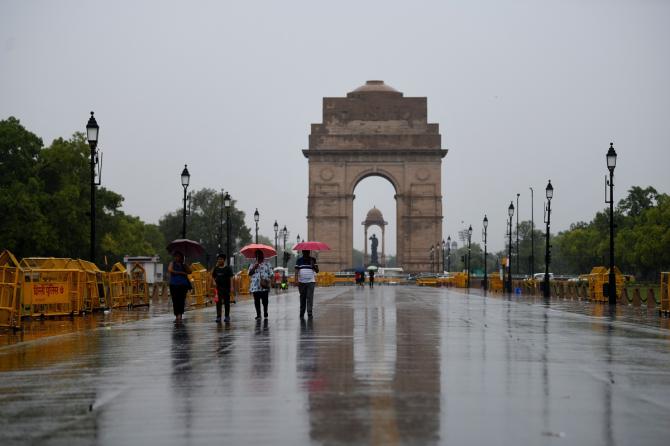 A 52-year-old man died on Saturday when a tree fell on him during a thunderstorm in Uttar Pradesh's Gonda.
In Rajasthan, 13 deaths related to rain and storm were reported over the last two days while at least 12 people were killed due to lightning strikes in Jharkhand during the same period, officials said.
Delhi was lashed by rain and gusty winds in the morning, keeping temperatures significantly lower than average for this time of summer as the national capital enjoyed a spell of relief from heat wave conditions.
However, uprooted trees and waterlogging led to traffic snarls in several parts of the city, including at Vasant Vihar-Delhi airport road stretch, Kanshiram Takkar Marg and Mahipalpur highway underpass.
Power supply in some areas was also disrupted as electricity lines and poles were damaged, officials said.
The weather department has predicted more rain and thunderstorm on Sunday.
Delhi had been reeling from punishing heatwave conditions, with mercury crossing 45 degrees Celsius mark at many places, but intermittent rains have brought relief from May 24.
After rain lashed Delhi, public works department minister Atishi asked officials to submit a report on areas affected by waterlogging and action taken to address the issue.
The minister gave the directions after visiting the centralised monsoon control room to check the waterlogging situation in the city, officials said.
She contacted engineers of the affected areas to assess the immediate status of waterlogging complaints, they said.
In neighbouring Gurugram, two hours of rain and thunderstorms led to waterlogging at more than 25 places, officials said.
Heavy rainfall occurred at isolated places in east Rajasthan, while thunderstorms coupled with gusty winds and light to moderate rains were recorded at isolated pockets in the state in the last 24 hours.
Rajasthan Chief Minister Ashok Gehlot said the damage caused due to storms and rain in many districts of the state is being assessed and announced that Rs 5 lakh will be given to the next of kin of the deceased.
Several parts of Haryana too were lashed by rains leading to a dip in the temperatures.
According to the Met department's report, among the places in the state to be lashed by rains overnight included Hisar, Karnal, Narnaul, Rohtak, Bhiwani, Kurukshetra and Rewari.
The department said Bathinda and Faridkot in Punjab also received rains.
In Jammu and Kashmir, tourists enjoyed the pleasant weather as the Valley witnessed rains over the last few days, leading to a drop in the mercury.
The maximum temperature in the Valley has hovered around 20 degrees Celsius while some places witnessed rainfall.
The pleasant weather has brought cheer to the tourists.