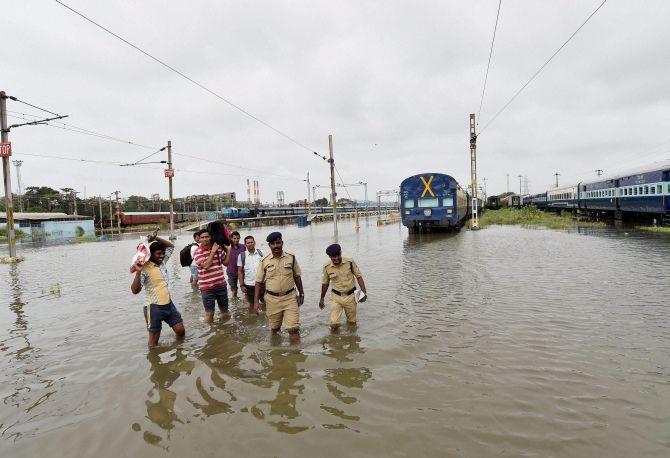 In good news for much of rain-battered Tamil Nadu, the trough over the Bay of Bengal, which has caused the torrential downpour in the state, will weaken in next 48 hours, the India Meteorological Department said on Thursday.
However, coastal districts Cuddalore and Nagapattinam and Puducherry and Karaikal districts of the Union Territory of Puducherry will be lashed by heavy rains as the weather circulation has moved to the central part of the state.
"Under the influence of the low pressure areas which is now in the South West Bay of Bengal off the Tamil Nadu coast, heavy rainfall is occurring in the central districts of Cuddalore, Puducherry and Karaikal districts of the UnionTerritory. There is no heavy rainfall in remaining parts of Tamil Nadu and even in Chennai there is hardly any rainfall," IMD director general Laxman Singh Rathore told reporters.
In the past 24 hours, the highest amount of rainfall was measured 135 mm in Cuddalore, 70mm in Puducherry, 60 mm in Karaikal and 70 mm in Nagapattinam. The total rainfall received since October 1 in this season is 1558.9 mm.
"Low pressure will weaken in next 24 hours. It is not moving rather oscillating within the same region. The probability of heavy rainfall in Tamil Nadu, except in hilly districts, is ruled out. So, it remains confined only to coastal region," Rathore added.