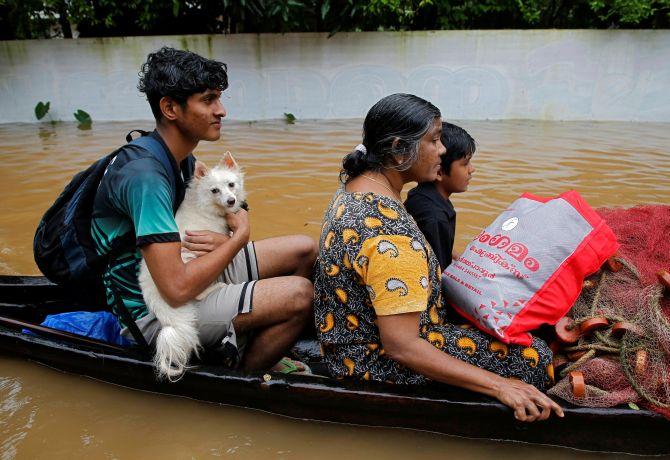 After a lull, rains again lashed parts of Kerala on Wednesday while in Karnataka the situation in coastal and south interior regions improved further with a let up in the downpour, as the toll rose to 163 with over 50 people missing in the two states.
Around six lakh people have been housed in over 2000 relief camps in the two states.
A Kerala government update at 5 pm said 102 people lost their lives across the state in floods and landslides, triggered by the second spell of monsoon, since August 8.
Officials said though people have started shifting to their homes in many places, there are still 1,89,649 sheltered in 1,119 relief camps.
Relief operations are in full swing in flood-ravaged districts of Karnataka, where the toll has gone up to 61 with seven more bodies recovered on Wednesday, as the rains abated in some areas.
Rains, which abated on Monday, battered various parts of Kerala since Tuesday night with the Met office in its latest update forecasting more showers, including heavy rain in isolated places, in the next few days and warning fishermen not to venture into sea.
The Met department in its update for the next 24 hours from 6 pm on Wednesday said the monsoon has been vigorous in most places in the state.
Strong wind from southwesterly direction with speed reaching 45-55 kmph was likely along and off Kerala coast, it said.
A red alert (extremely heavy rains) had been issued for three northern districts of Malappuram, Kannur and Kozhikode, which bore the brunt of the rain fury and landslips last week.
Pathanamthitta district was put on high vigil due to torrential rains since last night.
A holiday was declared for educational institutions in 11 of the 14 districts in the state on Wednesday.
The government announced a flood compensation package with an immediate financial aid of up to Rs 10,000 each to all calamity-hit families which had suffered loss in the floods and landslips triggered by the second spell of monsoon.
After chairing a cabinet meeting, Chief Minister Pinarayi Vijayan said Rs 4 lakh compensation would be given to those whose houses had been fully damaged or had become uninhabitable and Rs 10 lakh to those who had lost their house as well as land. Flood-hit families and fishermen would be given 35 kg free rice.
On Wednesday, a fisherman drowned and three others were rescued when their fishing craft capsized in nearby Vizhinjam. Despite inclement weather, search operations continued at Kavalappara in Malappuram and Puthumala in Wayanad, where a series of landslips had wiped out two villages last week, to trace those who were suspected to have gone missing.
Mallapuram district accounted for most deaths with toll there rising to 42 on Wednesday and 29 people still missing, followed by Kozhikode (17), Wayanad (12 deaths, 7 missing), Kannur 9 and Thrissur 8.
One person was missing in Kottayam district. As per a state government update, 11,286 houses have been partially damaged and 1,060 fully damaged.
In a touching gesture, a Latvian national, whose sister was raped and killed at nearby Kovalam last year, has expressed solidarity with the people of the state facing the monsoon fury and made a contribution to the Chief Minister's Distress Relief Fund.
Chief Minister Pinarayi Vijayan was all praise for Ilze Skromane and said her act was 'unparallelled'.
In neighbouring Karnataka, inflows into the reservoirs were steadily decreasing, and flood situation has improved in the affected districts of north, coastal and Malnad regions, where the rain fury had created mayhem in the past one week.
"Relief operations are in full swing and senior officers camping in the districts to oversee the relief operations," an official release said.
While 15 people are still classified as missing, nearly seven lakh people have been evacuated till date.
Damaged roads are being restored on war footing for movement of men and materials, it said, adding that stability of schools and anganwadis are being assessed by engineers in flood-affected areas.
Joint rescue team comprising Fire and Emergency, State Disaster Response Force, National Disaster Response Force and Army have evacuated 6.97 lakh people as on Wednesday.
As many as 1,096 relief camps are operational, where clean drinking water, food and other relief materials are being provided to 3,75,663 people housed in them.
According to the government, 103 taluks in 22 districts have been affected by floods and incessant rains in the past few days, resulting in loss of agriculture and horticulture crops on 4.69 lakh hectares and damaging 58,620 houses. Meanwhile, the CM's Relief Fund has received Rs 4.09 crore donation towards flood relief.
Death toll due to floods in western Maha at 50; relief ops on
The death toll due to floods in western Maharashtra reached 50 on Wednesday with recovery of more bodies amid receding floodwaters.
Kolhapur and Sangli were the worst-affected by torrential rains and floods.
Pune divisional commissioner Deepak Mhaisekar said the body of a person who had drowned was found on Wednesday.
"The toll has reached 50. Three persons are still missing," he said.
The floods have devastated villages on the banks of the Krishna and Panchganga rivers.
The level of the Krishna has gone down below danger level of 45 feet at Irwin Bridge in Sangli city, while the Panchganga is flowing at the danger level of 43 feet at Rajaram Weir near Kolhapur city, officials said.
The discharge of water from the Almatti dam in Karnataka has been maintained at 5,70,000 cubic feet per second (cusec), Mhaisekar said.
The Maharashtra government had asked the neighbouring state to discharge water from Almatti, which is downstream on the Krishna, to ease flooding in western Maharashtra.
As of Tuesday, 6.45 lakh people were shifted to safer locations in Kolhapur and Sangli.
"In Kolhapur, life is getting back to normalcy as relief work is going on in full swing," a local official said.
The situation in Shirol tehsil of Kolhapur, which was almost marooned, had improved with maximum help being provided there, he said.
"Carcasses of 150 animals were disposed of using scientific methods to prevent health hazards," the official added.
Chief Minister Devendra Fadnavis had said on Tuesday that the state government will seek assistance of Rs 6,813 crore from the Centre for flood relief.
Several rivers in flood in Madhya Pradesh, four dead
Four people, including a woman and her daughter, drowned in Mandsaur and Betul districts of Madhya Pradesh on Wednesday as around 3,000 people were shifted following heavy rains and floods.
Almost the entire state is receiving rains, and some areas are expected to have 'very heavy to extremely heavy' rain by Thursday morning, the India Meteorological Department (IMD) warned.
The rains have sent rivers and nullahs into spate and inundated low-lying areas in the state.
In Betul district, Amar Lal Uike (22) lost control of his motorbike while crossing a flooded bridge on the Rojhde river and was swept away, tehsildar Lavina Ghagre said.
His body was found 3 km away, she said. R D Gupta, a professor at government college at Mandsaur, his wife Bindu Gupta (42) and daughter Akriti (20) fell into a fast-flowing nullah in Gandhinagar in Mandsaur city while trying to click a selfie on Wednesday morning.
Onlookers pulled out Gupta but his wife and daughter were swept away, district Superintendent of Police Hitesh Choudhary said. The bodies of the two women were later fished out, he added.
Bapulal Dhakad, a milkman, was swept away while crossing a bridge across a nullah which was in spate on his motorbike at Badwan village in Mandsaur district, collector Manoj Pushp said. His body was retrieved one km away.
Some 3,000 people were evacuated from Malhargarh area, Mandsaur tehsil and Mandsaur city in the district following floods and shifted to seven camps, the collector said.
The water of the Shivani river has entered the famous Pashupatinath Mahadev temple on its bank, Pushp said.
"Around a dozen houses collapsed or were partially damaged due to rain in the district. Floodwaters are now receding," he added.
The rivers Narmada, Kshipra, Betwa, Tapti, Tawa, Chambal and Parwati are in spate in the state.
Meteorologist G D Mishra of IMD Bhopal said almost entire state witnessed rainfall in the 24 hours ending 8.30 am on Wednesday.
Gotegaon in Narsingpur district received the highest 164 mm rain between 8.30 am Tuesday and 8.30 am Wednesday, he said.
Heavy rains are expected at a few places in 36 districts including Indore, Dhar, Khandwa, Neemuch, Mandsaur and Bhopal. Isolated spots in these districts may receive 'very heavy to extremely heavy' rain by Thursday morning, Mishra added.