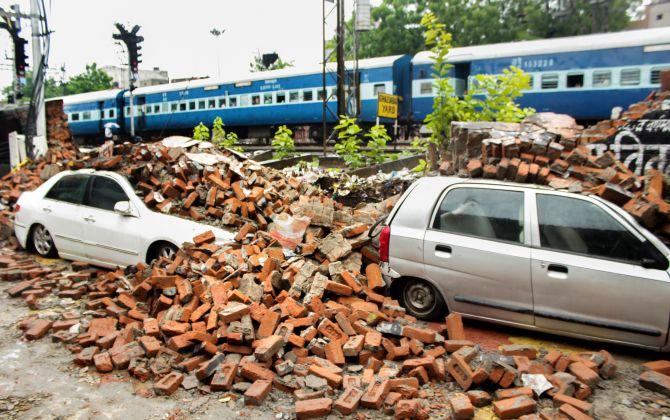 Heavy rains lashed northern parts of the country, claiming 27 lives in Uttar Pradesh and leading to water logging and traffic snarls in several areas.
Mathura and Kasganj in Uttar Pradesh received 19 cm and 18 cm rain respectively. Aligarh recorded 13 cm rainfall as the state was wreaked by heavy rains since yesterday, officials said on Friday.
As many as 27 people were killed and 12 injured in the rains, they said.
Five people died in Agra, four deaths were reported in Mainpuri, three each in Muzaffarnagar and Kasganj, two each in Meerut and Bareilly and one each in Kanpur Dehat, Mathura, Ghaziabad, Hapur, Jhansi, Rae Bareli, Jalaun and Jaunpur.
Chief Minister Yogi Adityanath directed officials to launch relief and rescue work on a war footing.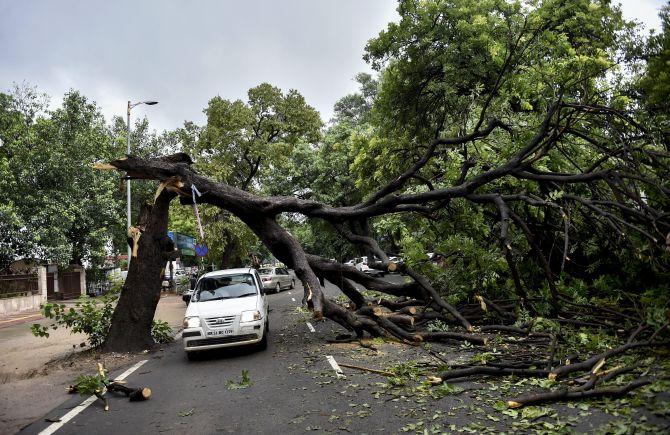 Rains also pounded the national capital which led to water logging in several areas and contributed to traffic snarls at various intersections, they said.
The Safdarjung observatory, recording of which is considered the official figure for the city, recorded 45.8 mm rainfall till 8.30 am and after which it received 2.5 mm rainfall till 5.30 pm. The humidity oscillated between 100 and 87 per cent.
An alert has been sounded by the Delhi government after the water level of Yamuna river crossed the danger mark, an official said.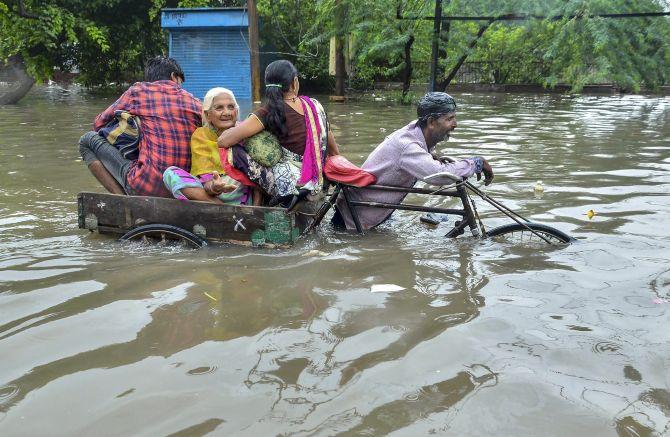 The Irrigation and Flood Control Department of the city government has made preparations to evacuate 100 people residing in low-lying areas.
"The Water Level of River Yamuna at Delhi Old Rly Bridge reached at 204.10 metres at 7 PM on July 27 (above the warning level) and having rising trend," a statement issued by the East Delhi district administration said.
"All the EEs (Executive Engineers)/ sector officers are directed to keep in close contact with the control room in relation to the discharge, water level at ORB (Old Railway Bridge) and the advisory or forecast from CWC (Central Water Commission)/MET, and requested to take appropriate measures/steps accordingly to avoid flood-like situation," it said.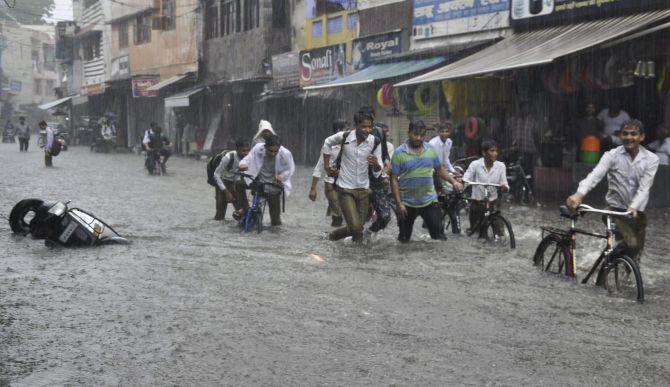 "Our men are on the field through QRT (Quick Response Team) vehicle and three boats have been pressed into service today which are making announcements for people to evacuate the low-lying areas and also telling them the do's and don'ts in floods," the statement added.
The Central Water Commission (CWC) has issued a flood warning for tomorrow following the rising water level of the Yamuna River. It said the water level is expected to rise 204.50 metres between 9 pm to 11 pm on Saturday.
"CWC, Upper Yamuna Division, New Delhi has issued flood forecast for Delhi Railway Bridge (North Delhi Dt NCT, Delhi). The Water Level of River Yamuna at Delhi Rly. Bridge is expected to be 204.50 metres at 2100 to 2300 hours on July 28 and thereafter steady. (Warning Level 204.00 m)," the Central Water Commission Official Flood Forecast said on its Twitter handle.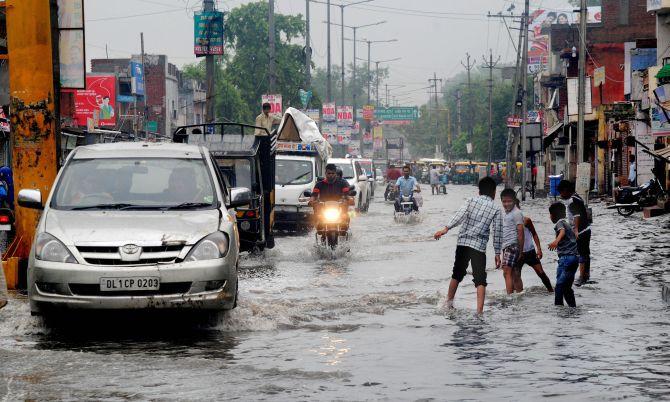 "The above flood forecast may be affected by the release of discharge from Wazirabad Barrage and Okhla Barrage," it said.
Heavy to very heavy rains were witnessed in most parts of Himachal Pradesh with Solan recording 100.4 mm rainfall, followed by 64.7 mm in Sundernagar and 56.5 mm in Mandi, the officials said.
Eight people, who were stuck on an island in the middle of a river in Himachal Pradesh due to high water level on Thursday night, were rescued on Friday.
A landslide was reported in the outskirts of Shimla city trigerred by heavy rains which affected traffic, they said.
Heavy rainfall occured at isolated places in east Rajasthan with Bharatpur recording a maximum of 11 cm rainfall in last 24 hours.
Kaman, Kumher, Pahari, Deeg and Rapbas of Bharatpur district received 5 to 7 cm rainfall. Various places in east Rajasthan recorded 1 to 5 cm rainfall. No rainfall was recorded in western part of the state during the period.
Kelyong in Lahaul and Spiti district remained the coldest place in the state as the lowest temperature at 10.7 degrees Celsius was recorded here during the last 24 hours.
Rains continued to lash parts of Punjab and Haryana, with mercury today again hovering below normal limits, they added.
In Haryana, Panchkula, Ambala, Yamunanagar, Karnal and Kurukshetra received rains and in Punjab, Patiala, Mohali and Rupnagar.
Train services were affected in Asansol division of the Eastern Railway following a landslip at the edge of a minor road overbridge near Kulti station due to rain.