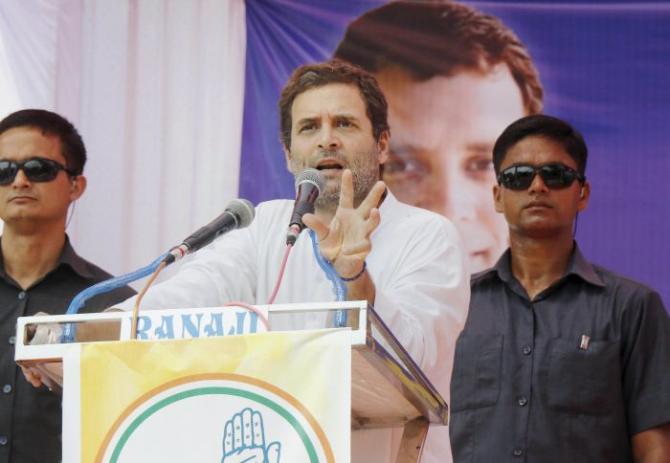 Congress vice-president Rahul Gandhi on Tuesday seemed to suggest that the Rashtriya Swayamsevak Sangh discriminates against women but his poser whether any woman is ever seen in its 'shakas' (assembly) wearing shorts sparked condemnation by the Bharatiya Janata Party.
Addressing a gathering of students in Vadodara on the second day of his election campaign in Gujarat, Gandhi said that in contrast, women work at every level in the Congress.
Union minister and senior BJP leader Smriti Irani slammed Gandhi's remark as 'indecent'.
"The BJP's thinking is that till women are silent they are good, when they start speaking up they try to shut them (women) up."
"Their organisation is the RSS. How many women are there in the RSS... Have you ever seen any woman in 'shakhas' wearing shorts?. I have never seen," Gandhi said in a sarcastic tone, adding, "In the Congress you will see women at every level in the organisation."
Khakhi shorts were a trademark of RSS volunteers which they used to wear during their drills in the past, before they changed to full pants over an year back.
Gandhi also said that if his party's government comes to power in Gujarat, it will give importance to women and try to resolve their issues.
The Congress leader began his second day of 'Navsarjan Yatra' in central Gujarat region from Vadodara by addressing the students.
"If Rahulji believes that wearing shorts in India is the sign of empowerment, as a woman I want to contradict it," Irani told reporters in Amethi, the home turf of the Gandhi family in Uttar Pradesh.
"Today, an indecent comment has been made on our sisters connected with the Sangh, the Rashtriya Sevika Sangh or the sisters, wives and sisters-in-law of ordinary Sangh workers," Irani added.
IMAGE: Congress vice president Rahul Gandhi addressing a gathering during a road show in Padara village in Vadodara on Tuesday. Photograph: PTI Photo