Congress vice president Rahul Gandhi's key confidants -- general secretaries Madhusudan Mistry, C P Joshi and Mohan Prakash -- were clearly among the most notable absentees. Rediff.com contributor Anita Katyal reports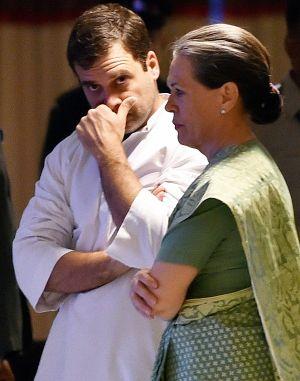 The iftar party hosted by Congress president Sonia Gandhi on Sunday was notable for those who failed to turn up rather than those who attended it.
While the media was quick to point out that a number of "secular and like-minded" political parties like the Samajwadi Party, Bahujan Samaj Party, Rashtriya Lok Dal and the National Conference were not represented at the iftar, the list of absentees from Congress's own ranks was equally significant.
Members of 'Team Rahul' were conspicuous by their absence. The only exception was former rural development minister Jairam Ramesh.
Congress vice-president Rahul Gandhi's old friends from the Lok Sabha like Sachin Pilot, Jitin Prasada, RPN Singh, Jitendra Singh, Harish Chowdhary, Deepender Hooda and Jyotiraditya Scindia did not attend.
It is possible that those who lost the last election were not invited but the absence of Scindia and Hooda, who are among the 44 members who won their Lok Sabha seats, is surprising. However, the two young MPs can always state that they had prior commitments in their respective constituencies.
But Rahul Gandhi's key confidants -- general secretaries Madhusudan Mistry, C P Joshi and Mohan Prakash -- were clearly among the most notable absentees, especially since other office bearers put in an appearance.
AICC general secretaries Janardan Dwivedi, Ambika Soni, Digivijaya Singh, Mukul Wasnik, Shakeel Ahmed and Ajay Maken were spotted mingling with guests at the gathering.
Congress leaders were at pains to explain that many party members could not make it for the iftar party as the decision to host it was taken late and many leaders had made plans.
While Rahul Gandhi continues to repose faith in them, Mistry, Mohan Prakash and Joshi are not exactly party favourites these days. Mistry and Mohan Prakash have come under sharp attack from the Congress rank and file, which holds them responsible for the party's rout in the Lok Sabha election.
Mistry and Prakash have been in the line of fire ever since the Lok Sabha results were declared. While Rahul Gandhi was blamed for depending on a coterie of advisors, these two general secretaries were singled out since they were entrusted with the responsibility of two key states -- Uttar Pradesh and Maharashtra. The Congress fared disastrously in both the states.
Party cadres are further irked because Mistry and Prakash continue to enjoy Rahul Gandhi's confidence. While Mistry has been given the responsibility of scouting for suitable candidates for the forthcoming assembly polls in Maharashtra, Haryana, Jharkhand and Jammu and Kashmir, it appears that Prakash may continue as Maharashtra in charge till the assembly polls.
They have never been accepted by the Congress cadres who continue to look upon them as "outsiders". While Prakash was with the Janata Dal, Mistry is known for his old association with former Bharatiya Janata Party leader Shankersinh Vaghela. Their meteoric rise in the party and their induction into Rahul Gandhi's team has further upset Congress cadres.
C P Joshi, another Rahul favourite, is facing flak for his poor handling of West Bengal and Assam, the two states under his charge. Not only has Joshi not visited the two states, he is said to be in the dock for not being able to deal with the recent revolt by MLAs against Assam Chief Minister Tarun Gogoi.
"The situation should have been handled better…the dissidents should have been managed well before they went public with their grievances," remarked a senior Congress leader.
With Rahul Gandhi's team members still very much in place, the party rank and file is now questioning the need for senior Congress leader A K Antony to prepare a report on the reasons for the party's debacle and the way ahead. "What's the point of this exercise when those responsible for the party's rout are not being held accountable for their performance," said a Congress leader.
Photograph: Vijay Verma/PTI Photos