Several Congress workers and leaders were allegedly detained by Delhi Police as the party tried to stage a protest march from the Red Fort to Town Hall through the busy Chandni Chowk Tuesday evening in solidarity with Rahul Gandhi following his disqualification from Lok Sabha.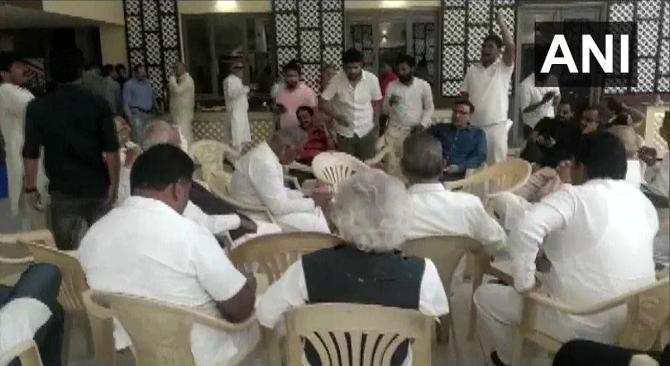 Congress leaders accused the government of "murdering democracy" after police stopped them from reaching the Red Fort to start their 'Loktantra Bachao Mashal Shanti March' at 7 pm.
Some leaders, however, converged at the Red Fort, which was heavily barricaded by the police.
They carried on with the march in small batches and later staged a dharna at Chandni Chowk. Party workers raised slogans against the government and were allegedly roughed up by the police.
Congress leaders, including party MPs, were to hold torches in their hands during the march against Gandhi's disqualification and the Adani "scam".
Deputy commissioner of police (north) Sagar Singh Kalsi said as many as 96 people, including former Uttarakhand chief minister Harish Rawat, former MP JP Aggarwal, TN Prathapan, Deen Kuriakorse and Shakti Singh Gohil, were detained.
All the detainees have been released and the situation is normal, the DCP said.
The Gandhi scion was disqualified from the lower house of Parliament soon after his conviction and two-year sentence in a 2019 defamation case by a Surat court regarding his 'Modi surname' comment.
"The Delhi Police is stopping us from taking out the Loktantra Bachao Mashal Shanti March from Red Fort, and did not allow us to reach the venue. However, this has not deterred us, and we have begun our march from the police barricades itself," Congress general secretary KC Venugopal said on Twitter.
Congress leader Jairam Ramesh said, "This is murder of democracy. Our voices are being silenced inside and outside the Parliament. Disqualifying our leader and not allowing us to walk now. What democracy is this?"
Another Congress leader P Chidambaram tweeted, "Large numbers of Congress workers had gathered near Red Fort for the Mashal Shanti March. Many hundreds of them were young people."
He said the gathering was entirely peaceful and quite enthusiastic and the general public in that crowded locality were very friendly, but the police denied permission and were determined to scatter the assembly.
He said he was with several MPs but could not go forward or backward and decided to leave after some time.
"On the road, I saw protesters in groups of 10-20 walking carrying banners and raising slogans. Near Raj Ghat, the police chased away the groups of protesters. The effort of the ordinary workers deserves full praise," he said.
Congress's in-charge for Madhya Pradesh Jai Prakash Agarwal said this is his ancestral land where he was born and brought up and the police is telling them not to even stand here. Agarwal was later taken away by the police and detained along with other Congress workers.
Congress Rajya Sabha MP Jebi Mather said she and some other women workers were being taken away by police to an unknown location and accused the police of misbehaviour.
"They can take us to Tihar jail, but we will continue our fight for democracy and for Rahul Gandhi. Not once but thousand times they can take you to jail, but we will continue," she said as she was taken away by the police.
Delhi Congress chief Anil Chaudhary said, "We will not rest till Rahul ji's questions are answered because these are not for him, but the country", and said he was detained after they tried to participate in the 'Save Democracy march'.
The Congress has said that they will continue to raise their voice both inside and outside Parliament and would take to the streets against Rahul Gandhi's disqualification.