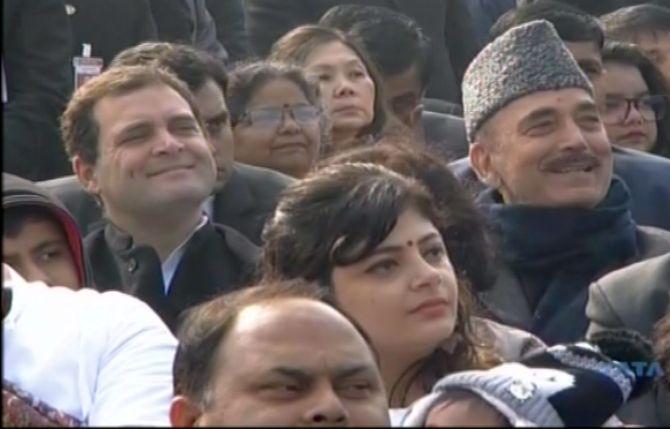 Congress president Rahul Gandhi on Friday attended the Republic Day Parade and took the designated seat in the sixth row, prompting an angry reaction from his party that accused the government of setting aside tradition and indulging in "cheap politics".
Gandhi was seated in the sixth row, along with Leader of Opposition in the Rajya Sabha Ghulam Nabi Azad.
Congress communications in-charge Randeep Surjewala said the Modi government's "cheap politics" was at display on Friday when it broke tradition and denied Gandhi a front-row seat.
Congress sources said the party presidents, including Sonia Gandhi who handed over the party reins to Rahul Gandhi in December last year, had always been seated in the front row at the Republic Day Parade.
"The Modi government's cheap politics is for all to see. The Congress president was deliberately made to sit in the sixth row, after initially assigning him a fourth-row seat, at the Republic Day celebrations by the arrogant rulers, who set aside all past traditions. For us the celebration of the Constitution is foremost," Surjewala tweeted in Hindi.
He also tagged a picture of Gandhi seated along with Azad at the Republic Day function.
Former prime ministers H D Deve Gowda and Manmohan Singh were seen seated in the front row in the picture, followed by Union ministers Smriti Irani and Thawarchand Gehlot.
Congress leaders had on Thursday alleged that assigning a seat in the fourth row to the Congress president was an attempt to "humiliate" him at a public function, which was attended by heads of government/states of 10 ASEAN countries.
India on Friday celebrated its 69th Republic Day with a grand display of the country's military might and rich cultural diversity in the presence of leaders from all the ASEAN nations, in a historic first and unprecedented strategic outreach to the powerful bloc.
This is for the first time that leaders from 10 countries attended the annual celebrations as chief guests, and the overwhelming presence of the ASEAN leadership is seen as a reflection of India's growing stature as a major power in the region where China has been expanding its footprint.
Last year, Sonia Gandhi was assigned a seat in the front row and was seen sitting along with Bharatiya Janata Party president Amit Shah. The BJP president was seated in the front row in the function on Friday.
Government sources said that as per the protocol, the Leader of Opposition is accorded a seat in the seventh row.