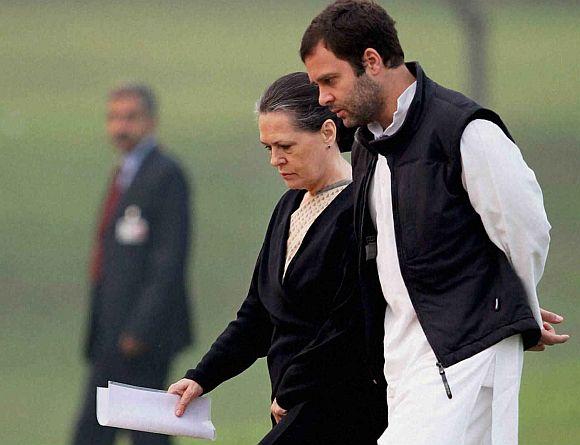 In his attempt to revive a beleaguered Congress, Rahul Gandhi is trying to bring in new leadership in the form of Rajeev Gowda and B K Hari Prasad, whose names have been nominated for the Rajya Sabha, says Renu Mittal.
He may have led the Congress to its worst ever defeat in the recently-concluded polls, but it appears that Rahul Gandhi is still calling the shots within the party.
With the approval of his mother, Rahul is continuing his trend of bringing younger leaders and removing those over the age of 70. He has already started axing senior Congress leaders and trying to reinvigorate the party by introducing young blood into its midst.
And continuing this style, the Congress has retired former Kartnataka Chief Minister S M Krishna from the Rajya Sabha. He will be replaced by Gowda, 42, a professor at the India Institute of Management, Bangalore. A close aide of Rahul, Gowda's nomination comes as a surprise as the Congress was expected to renominate Krishna, the veteran leader.
However, Gowda fits into Rahul's mould -- he is an expert on policy planning and management, studied abroad at Wharton University, speaks perfect English and moves in elite circles. And like Krishna, he belongs to the dominant Vokkaliga community.
The second seat has gone to All India Congress Committee general secretary B K Hari Prasad, who had enjoyed a short Rajya Sabha stint and has now been renominated. Prasad is known to get along with all sections of leaders in the party.
And despite the collective efforts of mother and son, former finance minister P Chidambaram has been unable to secure a Rajya Sabha seat, as Karnataka Chief Minister Siddaramaiah has refused Chidambaram's candidature owing to his stand on the Cauvery water issue. The nominations and names being thrown into the hat signal this is the end of the Dr Manmohan Singh, Montek Singh Ahluwalia and P Chidambaram era.
While Ghulam Nabi Azad has been selected to be the Leader of Opposition in the Upper House, former commerce and industry minister Anand Sharma has been elected as the deputy leader in the Rajya Sabha.
Sources say that Priyanka Gandhi was backing Anand Sharma but it was felt that Azad's experience as a parliamentary affairs minister, his good networking skills and his ability to get along with all leaders, were reasons why he was given the appointment.
With a large number of leaders losing the election, the party now has the opportunity to try out new leaders and give them a chance to show their mettle.