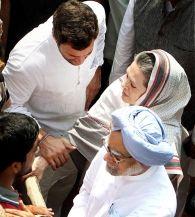 Days after his public criticism of the government over ordinance on convicted lawmakers, Rahul Gandhi on Thursday sought to mollify Prime Minister Manmohan Singh saying he is "my guru" and "a man with good intent".
Addressing a public meeting here in Punjab, he also hit out at the BJP for questioning the timing of his statement on the ordinance saying this cannot be an issue for speaking the truth.
"When I met Manmohan Singhji after the ordinance, I told him that I have learnt a lot from you. I have two gurus in my life -- Congress president and Manmohan Singh. You have given me one guru. What Manmohan Singh has done for India and Punjab has given to the nation, no one has given," he said after the foundation stone laying of a cancer hospital.
"Agar niyat kharaab hai to kuchh nahin hoga, agar niyat saaf hai to sab kuchh hoga. Manmohan Singhji ki niyat bilkul saaf hai (If the intent is bad, nothing will happen. If the intent is clear, everything will happen. Manmohan Singhji is a man with good intent)," Gandhi said while showering praise on the prime minister.
The Congress vice president's remarks assume significance as his public outburst last month against the ordinance that sought to provide immunity to convicted lawmakers was seen as a snub to the prime minister as it had been cleared by the Cabinet headed by Singh.
Lauding Punjab and its farmers for providing food to the country, the Congress vice president said the right to food to everyone in the country would not be possible without Punjab's farmers.
Gandhi also talked about the plight of Sikh farmers ousted from Gujarat and accused the Akali government in the state of not standing for their rights and taking up the matter with its ally.
Talking about the ordinance, Gandhi questioned the opposition for saying that the timing of his remarks against it was wrong.
"Is there a time for speaking the truth? Today, politics is such that people select specific timing even to speak the truth. I want to change this. If you have to end corruption, you have to speak the truth," he said.
Talking about the Muzaffarnagar communal riots, he accused the Samajwadi Party of fomenting trouble and enmity between Hindus and Muslims in Uttar Pradesh for political gains.
"I went to Muzaffarnagar and met both Hindus and Muslims. They said we don't want to fight. We have love for each other. 'Dushmani Samajwadi Party ke log laye hain' (It is the people of Samajwadi Party who have brought in hatred)," he said.
Touting the rights of food, employment, education and information provided by the UPA, the Congress leader hit out at the BJP accusing it of not even talking about such issues.
"People ask what has UPA done. We started the politics of providing rights to people. We provided the right to food, right to employment, right to education, right to information.
"Today people talk about corruption. RTI gave strength to the common man. Anyone can ask questions today. The BJP did not do this. Go to their state and see what happens to the RTI commissioners. Why did we do this...to strengthen your hands."
"Till the common man is given powers, this nation will not progress. We talk about giving powers in your hands. They don't talk about it as they want to keep such powers with them," Gandhi said referring to the BJP.
He also lauded Punjab and Haryana for providing food to the nation saying "without Punjab, India cannot rise."
Highlighting the problem of drug abuse in Punjab, he spoke of the plight of mothers who fear for their sons taking to drugs and cited his own childhood fears of bad weather when his father was a pilot.
He also talked about the plight of youth scouting for employment in Punjab in the absence of one. "Till these fears are driven away from Punjab, this state cannot progress. There is no shortcoming in you, you gave us Manmohan Singh," he said.
Gandhi also favoured bringing more women in politics and said, "we can bring about a change only if we do so." He also lauded the role of the Youth Congress in "waging a war" against the "atrocities" of the ruling Akali regime in the state.