Leaders of several opposition parties attended a breakfast meeting hosted by former Congress president Rahul Gandhi at the Constitution Club on Tuesday where stress was laid on opposition unity.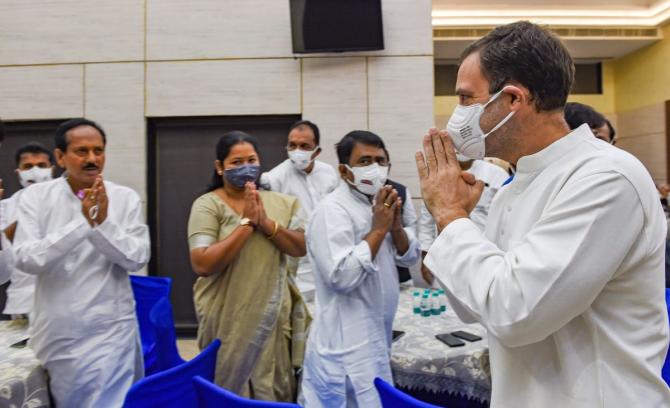 Several Opposition MPs led by Gandhi later cycled to Parliament to highlight the issue of fuel price hike.
Some Opposition MPs, who could not cycle, walked down to Parliament.
Apart from around 100 MPs of the Congress, leaders of several opposition parties including Trinamool Congress, Nationalist Congress Party, Shiv Sena, Communist Party of India-Marxist, Communist Party of India, Rashtriya Janata Dal and Samajwadi Party attended the meeting.
Leaders of Jharkhand Mukti Morcha, besides Indian Union Muslim League, Revolutionary Socialist Party and Kerala Congress (M) were also present at the meeting.
Leaders of 17 opposition parties were invited at the breakfast meeting, but the Bahujan Samaj Party and Aam Aadmi Party did not attend.
Trinamool Congress, which had skipped the last meeting of Opposition leaders by Gandhi, was also present at Tuesday's breakfast meet.
"The single motive to invite you is that we should unite. The more this voice unites, the more powerful it will become, the more difficult it will become for the Bharatiya Janata Party and the Rashriya Swayamsevak Sangh to suppress this voice," Gandhi said at the meeting.
"We should remember the foundation of unity and it is important that now we start to come up with the principles of this foundation," he told the opposition leaders.
© Copyright 2021 PTI. All rights reserved. Republication or redistribution of PTI content, including by framing or similar means, is expressly prohibited without the prior written consent.