Taking a swipe at Prime Minister Narendra Modi, Rahul asked how could he stand with the Akali Dal when he always talks about eliminating corruption.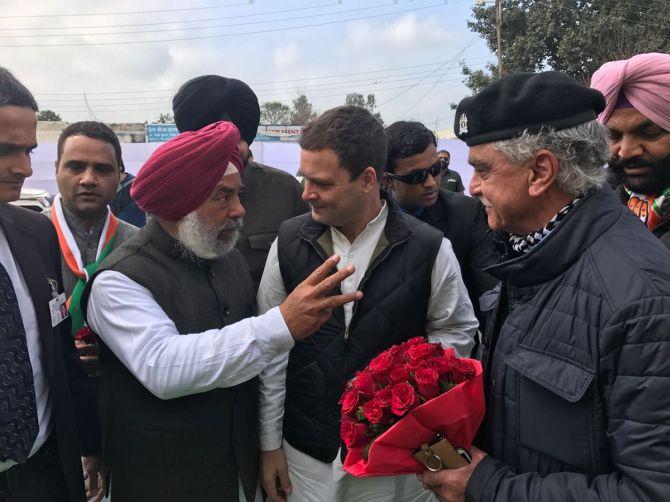 Setting at rest speculations, Congress vice president Rahul Gandhi on Friday announced that Punjab Congress chief Amarinder Singh will be the party's chief ministerial face in the high-stakes assembly polls.
Amarinder, 74, who is fighting his last election, will be the next chief minister, if the party forms government in Punjab.
Rahul, addressing the rally in the pocket-borough of Punjab minister Bikram Singh Majithia, said Amarinder alone can change Punjab and set it right along with the support of the people of the state and there is no other way out.
Ruling Shiromani Aakali Dal and the Aam Aadmi Party have been mocking Congress, asking why the party was not declaring Amarinder as its chief ministerial candidate for the February 4 assembly polls.
"Punjab will be run by its people. I want to tell you that Punjab's chief minister will be from Punjab and Punjab's chief minister is sitting here. Amarinder Singh is Punjab's chief ministerial candidate and he will be Punjab's chief minister," he said, prompting leaders to congratulate Amarinder on the dais.
Rahul said Punjab will not be run by 'remote control' as it does not need one, taking a veiled dig at Kejriwal and accusing him of wanting to become Delhi and Punjab chief minister at the same time.
He also made a scathing attack on the ruling Badals, accusing them of ruining Punjab and Prime Minister Narendra Modi of siding with them and talking of removing corruption.
Rahul, who began his three-day election tour to the poll-bound state by addressing his first public meeting in the presence of Amarinder and Navjot Singh Sidhu, also attacked the AAP and Kejriwal of trying to befool the people of the state by making false and empty promises.
The Congress leader said this election is not to 'form a government but to save Punjabiyat' and Punjab's honour and only Congress with the help of people of the state can do it.
He also said if Congress comes to power, then the government will bring a law to deal with the drug menace in the state and put all those carrying out drugs business behind bars.
Taking a swipe at Prime Minister Narendra Modi, Rahul asked how could he stand with the Akali Dal when he always talks about eliminating corruption.
"Modi says that he is fighting against corruption, you tell me when he talks about corruption and when he comes here and stands with the Akali Dal, how can he talk about corruption..," he said.
Gandhi held his first rally in the Majha heartland in Majitha and claimed that Punjab has fallen behind other states as the ruling Akalis 'plundered' it to serve their own purposes.
"Punjab meets the nation's food needs... With Punjab the nation moves forward...," he said and accused the Akalis of looting the state and extending benefits to their own people.
"They did not give anything to the common people, but only extended benefits to their own people," Gandhi alleged.
Blaming the 'lopsided' policies of the ruling SAD for 'exodus' of the industries to other states, he said, "They (the SAD) have destroyed the industry, they ruined Punjab's future."
Raking up the drug issue, he said that the Akalis mocked at him when a few years back he had said that 70 per cent youth of the state have fallen prey to this menace.
A few years later, now the whole state is saying the problem has grown, Gandhi claimed.
"We will fight against chhitta, drugs. We will frame a tough law against drugs. We will take strict steps against this menace. We will frame such a law that anyone who thinks about drugs, they will shiver and feel scared," he said.
Hitting out at the AAP, which is also eyeing to wrest power in the state, Gandhi accused it of having failed to deliver on its promises made to the people of Delhi.
On the water issue, the AAP says one thing in Delhi, another thing in Haryana and something else in Punjab, he claimed.
Appealing people to vote for Congress, he said, "We have not come here to make hollow promises," adding that his party delivers on what it says.
Punjab cabinet minister Bikram Singh Majithia is seeking re-election for the third time from Majitha constituency.
The Congress has fielded Sukhjinder Raj Singh against him while the AAP's candidate is Himmat Singh Shergill from this high-profile seat.
IMAGE: Congress vice president Rahul Gandhi with Majithia candidate Sukhjinder Singh Lali Majithia on Friday. Photograph: @punjabpcc/Twitter
© Copyright 2023 PTI. All rights reserved. Republication or redistribution of PTI content, including by framing or similar means, is expressly prohibited without the prior written consent.