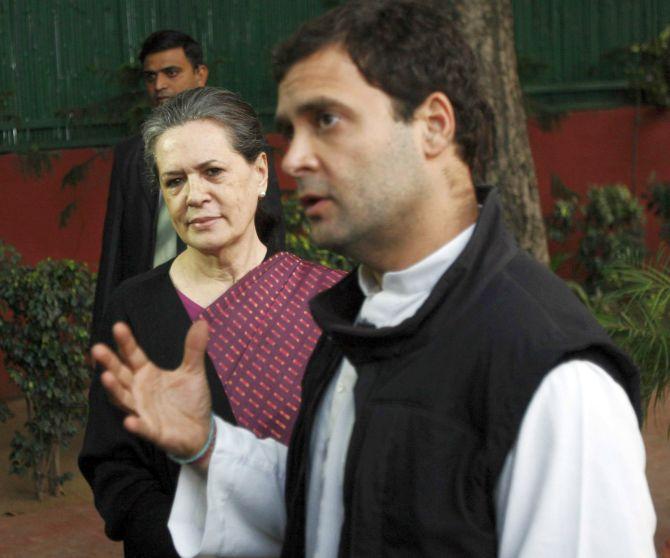 Declaring that Congress president Rahul Gandhi was now her boss too, Sonia Gandhi on Thursday said the "winds of change are coming" and she would work with "like-minded parties" to ensure the Bharatiya Janata Party's defeat in the next elections.
Sending out an upbeat message backing her son's leadership, Sonia Gandhi told MPs at a meeting of the Congress Parliamentary Party that the process to revive the party's fortunes had begun after the recent results in Gujarat and Rajasthan.
Pushing the Congress into poll gear, the CPP chairperson also launched an all-out attack on the BJP and the Modi government and alleged that it was orchestrating violence against minorities to polarise society for narrow political gains.
This would be seen in Karnataka too, which goes to the polls in a few months, the former Congress president, who handed over the party's reins to Rahul Gandhi after 19 years in December last year, told the CPP.
Asking the party to be ready for polls, she said 2014 was a severe setback, "but I am convinced that it was an aberration".
Noting that people were disenchanted with the BJP, she said it was for the Congress to channel this discontent into support.
"We have demonstrated our resilience before and we are now called upon to do so again. For this we must not only highlight the abject failures of the Modi government but more importantly, build a positive and credible narrative for ourselves on issues of public concern."
As CPP chairperson, she said she would work with the Congress president and other colleagues "in discussions with like-minded, political parties to ensure that in the next election, the BJP is defeated and India is restored to a democratic, inclusive, secular, tolerant and economically progressive path".
Sonia Gandhi also sent out the clear message that there would not be two power centres in the party.
"We have elected a new Congress president and on your behalf and on my own, I wish him all the very best. He is now my boss too -- let there be no doubt about that - and I know that all of you will work with him with the same dedication, loyalty and enthusiasm as you did with me," she said.
Attacking the Modi government, she said in the last four years institutions at the foundation of democracy had come under systematic assault -- Parliament itself, the judiciary, media and civil society.
"Investigative agencies have been let loose against political opponents. An all-pervasive atmosphere of fear and intimidation has been created. Liberal, secular and democratic traditions are being wantonly damaged. The pluralistic nature of our society -- which has been its strength for centuries -- is being eroded," she said.
Gandhi also dubbed the Modi government as one not in sync with reality, saying tall claims are being made of so-called economic achievements but the reality is quite different.
"The last budget is full of sleights of hand -- of jumlas such as the oft-repeated but impossible to achieve promise to double farmer incomes in five years and promises of increased support prices without clarifying their basis," she said.
Minorities, the Congress leader added, feel unsafe and are subjected to barbarous attacks, even as Dalits have come under renewed and widespread atrocities, as have women.
"In many cases this violence, specially against minorities and Dalits is not sporadic or random, but orchestrated to polarise our society for narrow political gains."
This was witnessed in both Uttar Pradesh and Gujarat and would no doubt be seen again in Karnataka, she said.
"Such polarisation is criminal in a democracy, yet those in power look the other way," she said.
She accused the Modi dispensation of coming out with new names of schemes that are catchy and colourful, much more than during the United Progressive Alliance.
"But this seems to be a game of maximum publicity, minimum government, or put another way, maximum marketing, minimum delivery."
She said the "arrogance and dishonesty of this" is reflective of the fact that the Modi government lives by its own propaganda and lies.
"We need no further evidence of this than the prime minister's speech in the Lok Sabha on Wednesday morning."
Referring to foreign policy, she said, personalised diplomacy and public bear-hugs were all very well but there was no substitute for institutionalised processes, for hard work and preparation, and for continuity in national policies.
She also lamented that Jammu and Kashmir continued to bleed and said "we see a deeply troubled country and deeply troubled people" across the country.