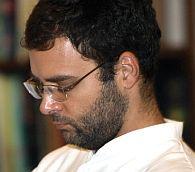 Congress Vice President Rahul Gandhi on Thursday met the distraught family of Sarabjit Singh, who died in a Lahore hospital following a brutal assault in a Pakistani jail.

Gandhi spent around 40 minutes with the family and consoled them, sources said.
Sarabjit's wife Sukhpreet Kaur, daughters Poonam and Swapandeep Kaur and sister Dalbir had said on Wednesday that they want to meet UPA chairperson Sonia Gandhi and other top leaders to press them to take necessary steps in the case.
Singh died of cardiac arrest after being comatose for nearly a week following a brutal assault by fellow inmates in Lahore's Kot Lakhpat Jail.