Congress Vice President Rahul Gandhi visited several ATMs in the national capital on Monday morning where he interacted with people standing in long queues to withdraw new currency.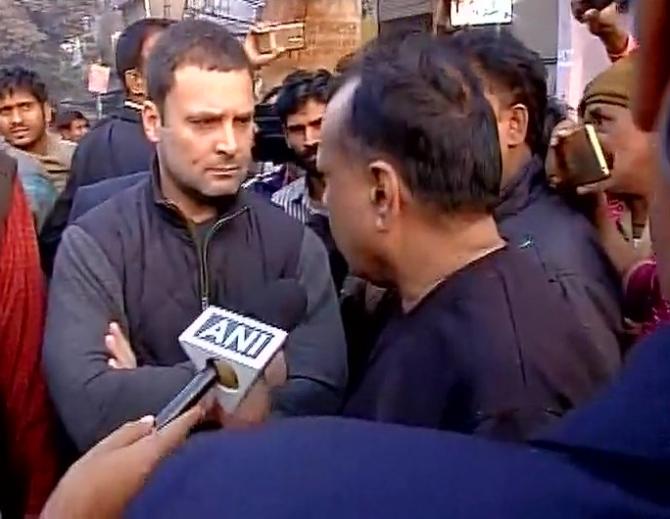 Before heading to Parliament, Gandhi visited ATMs in several areas including Anand Parbat, Zakhira, Inderlok and Jahangirpuri where he enquired from people about the
difficulties being faced by them following the Centre's decision to withdraw Rs 500 and Rs 1000 notes.
However, this was not Gandhi's first visit to an ATM after the big announcement by Prime Minister Narendra Modi on November 8.
He had landed up at Parliament Street branch of State Bank of India here on November 11 and stood in the queue with the people there to exchange demonetised currency notes with new ones.
Last week as well he had made an unscheduled brief stop at an ATM in Vakola locality in Mumbai and interacted with the people standing in a queue.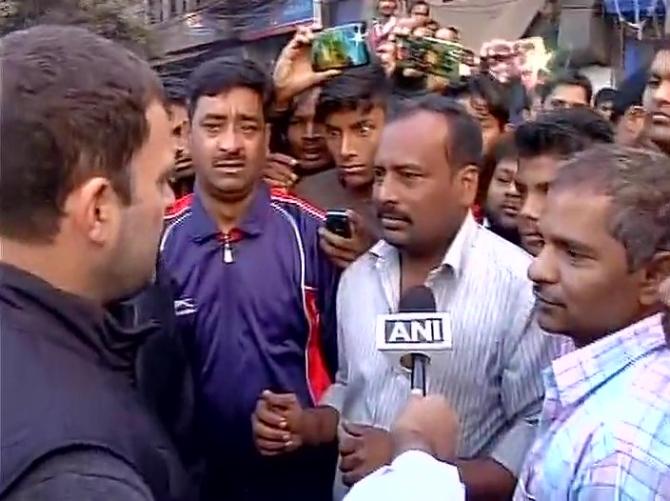 Gandhi who has been critical of the demonetisation move had launched a scathing attack on Prime Minister Modi saying he was "laughing" while people were dying in queues outside banks and ATMs to withdraw money and the move will turn out to be a "big scam".
He had also claimed that many economists including former Prime Minister Manmohan Singh had found the decision to withdraw the high-value tenders to be without rationale and the government did not seem to be going after the "big players" in black money like Vijay Mallya and Lalit Modi.
In both Houses, the Opposition parties have insisted on Prime Minister Modi's presence while opposing demonetisation.
In the Rajya Sabha, treasury benches also resorted to slogans after Union Minister Mukhtar Abbas Naqvi referred to the Leader of the Opposition Ghulam Nabi Azad's statement that more people had died because of demonetisation than had been killed in the Uri terror attack on September 18 this year.
The CPI-M, in a statement, said, "Instead of immediate measures to bring relief to the people, the government has now reduced the limit of exchanging notes per person from Rs 4,500 to Rs 2,000. This will hit hard the poorer sections."
The opposition has been clamouring for Prime Minister Narendra Modi's presence in the Parliament, saying that he has a moral obligation to answer the common man whose life has been thrown in turmoil because of demonetisation.
Lashing out at the Prime Minister for failing to appear in Parliament to face the opposition, the Congress had earlier asserted that the former was "absconding" from the House, but seemed to have enough time on his hands to address the Global Citizen Festival via video conferencing, where the internationally acclaimed band Coldplay performed.
"Fifty five people have died. Crores stand in line for the past 11 days. Banks do not have cash, ATMs do not have notes. People have money in their accounts, but there is no money to be withdrawn from their accounts," Congress spokesperson Randeep Surjewala said, adding that the Prime Minister was missing from parliament since the Winter Session began.
"Parliament is on and the Rajya Sabha is demanding that the Prime Minister should come and answer on demonetisation, but Modiji has time to address via video conferencing a Coldplay concert in Mumbai," Surjewala added.
Photographs: ANI