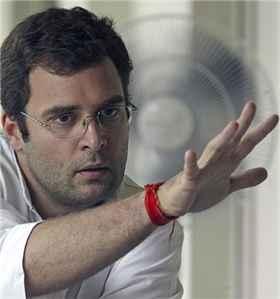 Congress leader Rahul Gandhi on Saturday visited the village of the two Dalit sisters, who were gang-raped and murdered in Badaun, and met their family members as they pressed for a Central Bureau of Investigation probe and refused to take any compensation, demanding justice for their girls.
Gandhi was accompanied by AICC general secretary in-charge of Uttar Pradesh Madhusudan Mistry, state PCC chief Nirmal Khatri and chairman of AICC Scheduled Castes department K Raju.
While speaking to mediapersons after the meeting, Gandhi said that he appeals not only for a CBI probe but also justice, so that a clear message goes out that one cannot go scot free after indulging in such a heinous crime.
The Congress vice president met the family at their home and also visited the site, where the bodies of the two girls were found hanging. He assured the family of all possible help, Congress leaders said.
The family members told Rahul that they don't have faith in the state police and want a CBI probe, they said.
The two victims, who were cousins and aged 14 and 15, went missing from their house on the night of May 27 and their bodies were found hanging from a mango tree in the village in Ushait area the next morning.
This is the first visit of the Congress vice president outside his Parliamentary constituency Amethi in Uttar Pradesh after the party's debacle in the recent Lok Sabha polls.
Pressing for a CBI probe into the incident, the family of the victims today said it was more gruesome than the December 16 gang rape case and demanded that the culprits be hanged publicly.
"We want justice and not compensation. The manner in which the entire world saw our innocent girls hanging, we want that in the same manner it should watch the culprits being hanged. They should be hanged publicly," said the father of one of the girls.
The incident had triggered protests in the area with villagers alleging police apathy, following which an FIR was registered against seven persons.
The incident also led to a nation wide furore. Home Minister Rajnath Singh was on Friday briefed by officials on the incident.
All the five main accused, including two policemen, have been arrested, police said today.
Badaun is 300 km from Uttar Pradesh capital Lucknow.
© Copyright 2022 PTI. All rights reserved. Republication or redistribution of PTI content, including by framing or similar means, is expressly prohibited without the prior written consent.