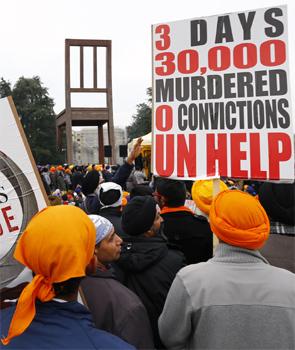 Scores of Sikh protesters led by the Shiromani Akali Dal and the Delhi Sikh Gurudwara Management Committee on Monday held a protest outside Rahul Gandhi's residence, demanding revelation of names of Congressmen who were allegedly involved in the 1984 anti-Sikh riots.
"We want Rahul Gandhi to reveal the names of those involved in the 1984 anti-Sikh riots. We have given him a 72-hour ultimatum after which we will protest outside the prime minister's house," DSGMC president Manjit Singh GK said.
In a recent interview to a TV news channel, Gandhi had said, "Some Congressmen were probably involved in the 1984 anti-Sikh riots and they had been punished for it".
The protesters raised anti-Congress slogans and held up black flags and placards, demanding justice for those who were killed in anti-Sikh riots in October 1984, following the assassination of then prime minister Indira Gandhi by her Sikh bodyguards.
The DSGMC also served langar (food cooked in a Gurudwara)to nearly 200-odd protesters who had gathered outside Gandhi's residence at 12 Tuglak Lane. Some women also tried to take the langar food inside Gandhi's house but they were denied permission by police personnel.
"I have seen my son being killed. Why did the police personnel not act when Sikhs were being massacred in 1984? We want all those guilty to be punished," said Lakshami Kaur, one of the riot victims.
The protesters also demanded ex-gratia relief, jobs and residential allowance for riot-victims.
"In 2005, Prime Minister Manmohan Singh had apologised for the riots and promised an allowance of Rs 715 crore. The ex-gratia in the case of death, jobs and compensation for damaged property were also enhanced but we have received no relief so far," said Kuldip Singh Bhogal, president, All India '84 Riot Victims Relief Committee.
Asked about the Delhi government's decision to set up a Special Investigation Team to probe the riot cases, he said, "We have been demanding a SIT for the past 25 years. If Chief Minister Arvind Kejriwal is really with us, we welcome him."
Several protesters also accused Gandhi of "rubbing salt on the wounds of the victims of 1984 riots."
In the interview, Gandhi had insisted that the Congress government in 1984 "was not aiding and abetting the riots" but instead, it had tried to stop the violence.
Congress leaders Jagdish Tytler and Sajjan Kumar are facing allegations of involvement in the riots.