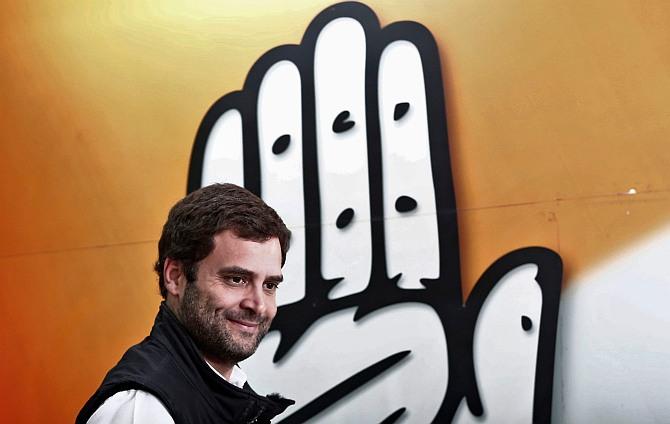 Yet another Congress leader has attacked party Vice President Rahul Gandhi saying he has neither direction nor any policy and called him an 'MD of a team of jokers'.
Bhanwar Lal Sharma, a Rajasthan MLA said that party was in its worst days because of Rahul and suggested that party President Sonia Gandhi should focus on strengthening the party instead of having affection for her son.
"Rahul Gandhi is directionless and has no policy. He and his advisors are responsible for the party's embarrassment and defeat in elections as there is no huge mass support for him," Sharma said in Jaipur.
Calling Rahul an 'MD of the Congressi Circus', Sharma said that Sonia should shift her focus towards strengthening and restructuring the party in a democratic manner instead of showing affection for Rahul.
"The people who are around him (Rahul) are jokers. He is the MD of a team of jokers," Sharma told reporters.
When asked about who are the jokers according to him, he said, "Why should I take names? You tell me who is not? Have Digvijay Singh and CP Joshi ever given a right statement? Everyone is like this."

Another Congress leader TH Mustafa had snowballed a controversy earlier this week by saying that Rahul Gandhi depended on a coterie close to him during the campaign and "acting like a joker" would not help in elections. Following the controversy, Mustafa was suspended from the party.

Asserting that party is not anyone's personal asset, Sharma said, "two three people give advice to Rahul. I am talking in clear terms that he does not understand the ground reality. May be, Rahul has a different mind-set, he may be having a computer culture."

"Rahul Gandhi's advisors have no mass support and they also lack political understanding. The party gave important work of ticket distribution for the state to such leaders who have no understanding," he said.

The Sardarshahar MLA blasted at the party after the Congress candidate from Churu parliamentary constituency Pratap Singh Poonia held him and other local leaders responsible for his defeat in the recently concluded LS elections.
Poonia accused Sharma and others of non cooperation during a feedback meeting here yesterday attended by the AICC General Secretary in charge Gurudas Kamat and PCC Chief Sachin Pilot.
"The feedback meeting is nothing but a useless exercise after losing. Party leaders' style of functioning was clearly responsible for the debacle so there is no point in discussing all these things after the defeat," he said.

Sharma, who was not present in the meeting on Friday, said his rebellion attitude may invite action by the party but it was necessary to speak out the truth.
"I do not get affected by the party's action," he said.

PCC President Sachin Pilot condemned Sharma's statement.

"Such indecent comments are condemnable. I understand that action should be taken. We (the party leaders) will discuss it in our meeting," Pilot told reporters.