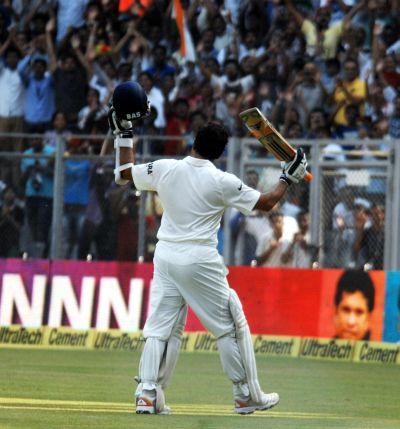 The decision to award the Bharat Ratna to Sachin Tendulkar at the end of an illustrious career, having completed 200 test matches at Mumbai's Wankhede Stadium on Saturday, was taken at the highest political level in the Congress party, highly placed sources tell Rediff.com.
It is learnt that the decision was taken by Congress general secretary Rahul Gandhi with an eye on the youth, since Tendulkar is the biggest icon of the youth in the country. It was felt that the Congress should go ahead and give the Bharat Ratna to the master blaster, considering that if they did not, other parties like the Bharatiya Janata Party -- and most particularly its prime ministerial candidate Narendra Modi -- would raise the demand for conferring the country's highest civilian honour on him. Modi has already raised the demand in the past.
Sources say that the matter was discussed in the party after Rahul Gandhi pushed for it. It was also decided that that the announcement would be made immediately after Sachin's farewell from test cricket.
On Friday, Rahul Gandhi left his hectic election campaign schedule and made it a point to be in the Mumbai stadium to cheer for Sachin.
While Sachin Tendulkar became the first sportsperson to be given the Bharat Ratna, Prime Minister Manmohan Singh wrote to President recommending the prestigious award also to eminent scientist Professor C N R Rao.
The letter by the prime minister was sent to the President at 1 pm on Saturday, and in half an hour the President had signed the recommendation and put out the official notification.
It is learnt that keeping in mind the mood of the nation as Sachin played his final test, the Congress leadership zeroed in on the timing and decided to move without wasting any time since the party is in the midst of the election season and would like to send the message that it believes in honouring the new age heroes.
Earlier, the Congress had brought Sachin Tendulkar to the Rajya Sabha along with actress Rekha as part of the President's nominees, and according to Union minister and BCCI vice president Rajiv Shukla, that decision was taken by party chief Sonia Gandhi.
It is obvious that the Congress would like to brand Sachin as one of its own, particularly now when the tide of sentiment in his favour is so high. First the Rajya Sabha seat and now the highest civilian award of the nation clearly bracket Sachin Tendulkar as part of the Congress family and the party leadership may certainly want the script to be written just that way. Whether it helps the party win over the youth by the latest sentiment remains to be seen, but Rahul Gandhi certainly believes it's a good gesture.
Image: Sachin Tendulkar gestures to the crowd after completing his last innings at Mumbai's Wankhede Stadium on Friday
Photograph: Sahil Salvi