Donning a white T-shirt, Rahul Gandhi's look-alike-- Faisal Chaudhary-- has become another attraction of Bharat Jodo Yatra, as people ask him to get photos and videos clicked with them.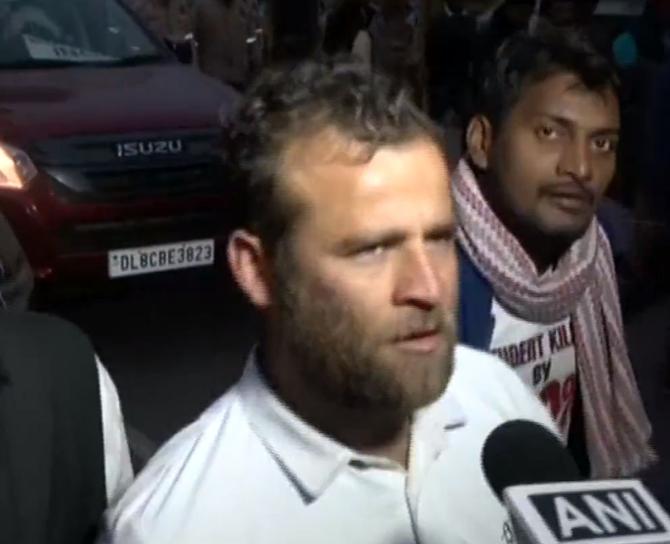 Faisal, who hogs the social media in Jammu and Kashmir says people who are unable to meet and click pictures with Rahul Gandhi, take pictures with him.
Faisal is the most 'clicked' man after Gandhi in Bharat Jodo Yatra which is in its last leg.
His video clip and pictures go viral on social media in J-K as he can be seen marching along with other supporters of the yatra.
"People come to me and click pictures and videos with me. I love it", said Faisal, who joined the yatra on January 5 from Baghpat (UP-Delhi border) .
He goes on to say that it is love for Rahul Gandhi that they click pictures with him.
"People love Rahul Ji. That is why they take pictures and videos with me, when they are unable to get pictures with Rahul Ji. I love being his look-alike," he added.
"I feel lucky to be Rahul ji's look-alike. As a party activist, my face resembles my top party leader's. But I will always be his activist," he said.
Faisal, who wears a brown beard like Rahul Gandhi, is a resident of Sangat village of Meerat district and is a worker of Congress party in Uttar Pradesh.
Unlike hundreds of people wearing jackets and sweaters while walking with yatra, Faisal wore white half-sleeved T-shirt like Gandhi.
"If Rahul ji can wear a T-shirt, why cannot anyone wear it. I am wearing it. I have no problem," he said.
Tearing into the remarks of the Bharatiya Janata Party that the yatra will not get support from people of Jammu and Kashmir, Faisal said, "People of J&K have wholeheartedly gave love to Rahul Ji and supported this yatra. Thousands of people are out and throng the venues. We thank them."
Faisal opined that Rahul Gandhi will dismantle the walls of hatred and bring in a new atmosphere of love and harmony.
"This yatra will be hundred percent successful. There will be a new dawn," he said.
Like Faisal, 88-year old Karona Prasad, who joined the yatra on 2nd October last year in Madhya Pradesh said that he will hoist tricolour in Lal Chowk and will continue to be part of the yatra.
"There is a need to bring back an atmosphere of harmony and brotherhood in the country. we pray for Rahul ji successful mission," one of the oldest yatris said.
© Copyright 2023 PTI. All rights reserved. Republication or redistribution of PTI content, including by framing or similar means, is expressly prohibited without the prior written consent.