Viewed as India's most eligible bachelor by some, Congress leader Rahul Gandhi says he'll get married when the right girl comes along and part of the problem is that his parents' "really lovely marriage" has set the bar very high.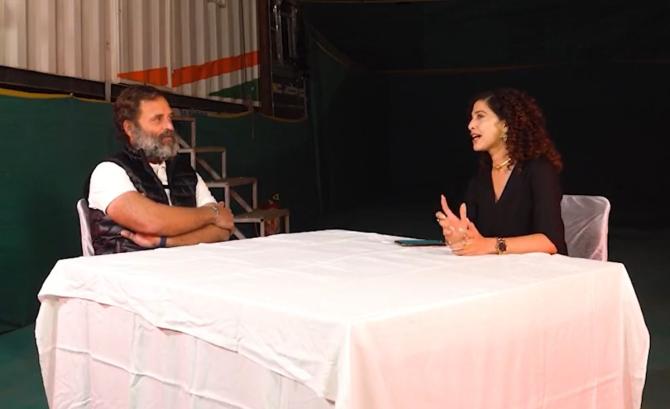 In a free-wheeling, light-hearted chat on food and travel platform Curly Tales on YouTube, Gandhi switched from the "only politics" track to discuss a range of personal issues, including his growing up years, his food preferences and his exercise regimen.
The 52-year-old former Congress president said he has nothing against marriage. "Part of the problem is my parents had a really lovely marriage and they were completely in love with each other so my bar is very high," he said, referring to his parents Rajiv and Sonia Gandhi.
"When the right girl comes along. I will get married. I mean if she comes along, she comes along. It will be good."
Asked if he has a checklist for the kind of person he wants to get married to, Gandhi said, "No, just a loving person who is intelligent."
During the dinner interaction recorded during the Rajasthan leg of his Bharat Jodo Yatra outside his container, Gandhi said he is not very fussy about food and eats anything that is available but does not like "matar and kathal (peas and jackfruit)".
Gandhi, who has been on the road since September when he started his Bharat Jodo Yatra from Kanyakumari and is now in Jammu and Kashmir, said he's "pretty strict" about his diet when at home.
"But here I don't have much choice," he said in the video of the chat posted by the Congress on its social media handles on Sunday.
Telangana was a "little bit spicy" for his taste. "The chillies were a bit over the top. I don't eat that much chillies."
Asked what food is cooked at home, he said there is "desi khana" for lunch and some sort of continental food for dinner. He follows a controlled diet and avoids too many sweet things.
Gandhi added that he "tends to be non-vegetarian" and likes all kinds of stuff such as chicken, mutton and seafood.
His favourite dishes are chicken tikka, seekh kebabs and a good omelette. He also said he prefers one cup of coffee in the morning.
Listing his favourite eating joints in the national capital, Gandhi said he would go to old Delhi but now his staples are Moti Mahal, Sagar, Swagat and Saravanaa Bhavan, the first a Mughlai food restaurant and the other three dishing up south Indian food.
Discussing his roots, he said his is a Kashmiri Pandit family which moved to Allahabad in Uttar Pradesh.
"Grandfather was a Parsi, so I'm a complete mix," he said, referring to his paternal grandfather Feroze Gandhi.
He said he was home schooled following the assassination of his grandmother and former prime minister Indira Gandhi. His father Rajiv Gandhi became prime minister after that.
"It was a shock actually. Security people said we can't go to school. I was at a boarding school but they took us out before grandmother's death. When daadi died, they didn't allow us to go back," he recalled.
While some teachers in school were overly nice, some were nasty because of the pro-poor political position his family took.
Talking about his higher education, he said, "I was in St Stephen's for a year and studied history, and then I went to Harvard University where I studied international relations and politics."
Security issues arose after his father's assassination in May 1991. He was then sent to Rollins College in Florida where he studied international relations and economics. He also has a Masters degree in development economics from Cambridge University, UK.
Giving details of his first job, Gandhi said he had a corporate job in London at the age of 24-25 with strategic consulting firm Monitor Company. His first pay cheque was about 2,500-3,000 pounds.
He mentioned three things he would do if he became prime minister -- transform the education system, help small and medium-scale businesses and protect the people who are having a rough time, including farmers and unemployed youth.
The idea behind the Bharat Jodo Yatra, which is scheduled to end in Srinagar on January 30, is to combat hatred, anger and violence spreading in India, he said.
"Tapasya (austerities) is an important part of our culture so as to understand ourselves and others... that's another thought behind this yatra."
Referring to his long walk, he said, "There are lots of people doing this tapasya with me, I'm not alone. There are lots of tapasvis here, people joining in from other states and walking all the way."
Gandhi, whose fitness levels have been the subject of much discussion as he walks from Kanyakumari to Kashmiri, putting in about 25 km each day, also talked about his interests in scuba diving, free diving, cycling, backpacking and martial arts aikido.
"I used to box in college and have always done some form of physical exercise. The martial arts are very convenient; they're not designed to be violent and it's quite the opposite. But it's taught in the wrong way to hurt and attack people. But if you understand it well, then it's great for you."
He does a martial arts class daily on the yatra as well.
On his bedside is a rudraksh, images of deities like Shiva and his wallet.
© Copyright 2023 PTI. All rights reserved. Republication or redistribution of PTI content, including by framing or similar means, is expressly prohibited without the prior written consent.