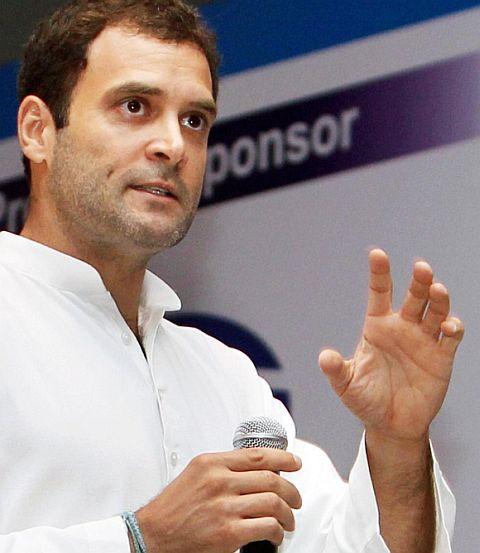 Fatorda, Belagavi, Jaunpur, Mehsana, Dehradun are on RG's itinerary.
Amit Agnihotri/Business Standard reports.
With Parliament shut over demonetisation, Rahul Gandhi has got into campaign mode and will take the Centre's controversial note ban to people in poll-bound Uttar Pradesh, Goa, Uttarakhand and Gujarat over the next week.
Sources said the Congress vice-president will hit the road right from Friday, the last day of the washed out winter session of Parliament, addressing a rally at Fatorda in Goa.
Gandhi, who has alleged that demonetisation is a huge scam and that he has evidence of corruption against the prime minister, will further criss-cross the country by addressing rallies at Belagavi (earlier Belgaum) in Karnataka on Saturday, Jaunpur in UP on Monday, Mehsana in Gujarat on Wednesday and Dehradun in Uttarakhand on the coming Friday.
While UP, Goa and Uttarakhand will have assembly elections early next year, Gujarat will go to the polls in the second half of 2017.
Congress-ruled Karnataka has no polls next year.
Sources said Rahul has been advised to avoid the 10-day festive season across the country from December 25 to January 5.
At Fatorda in South Goa, he will address party workers at the culmination of a 15-day foot march against the Bharatiya Janata Party government there.
The Jaunpur seat in eastern UP is held by the Congress. Sources say he might address another rally at Bahraich, also in eastern UP.
Mehsana in Gujarat is significant as it has a majority population of the Patel (Patidar) community, restive in an agitation against the BJP government.
Some months earlier, Gandhi had asked local party leaders to tap into this mood.
In Dehradun, Rahul's aim is to support Chief Minister Harish Rawat, who proved his loyalties during the political crisis in the state when a section of party MLAs joined the BJP and the Centre imposed President's Rule. The Supreme Court later restored the Rawat government.
Sources said Gandhi would highlight how the implementation of demonetisation had been a mess, putting millions of poor into discomfort and resulting in various deaths.
His prime charge is that large sums of money deposited in banks after demonetisation will be used to cover unrecovered loans to select rich people.
In a strategy session chaired by him on Wednesday, party lawmakers and state units have been asked to step up protests over demonetisation in the coming days.