Congress leader Rahul Gandhi on Tuesday distanced his party from Maharashtra Chief Minister Uddhav Thackeray, saying it was only supporting the state government and was not actually the decision-maker.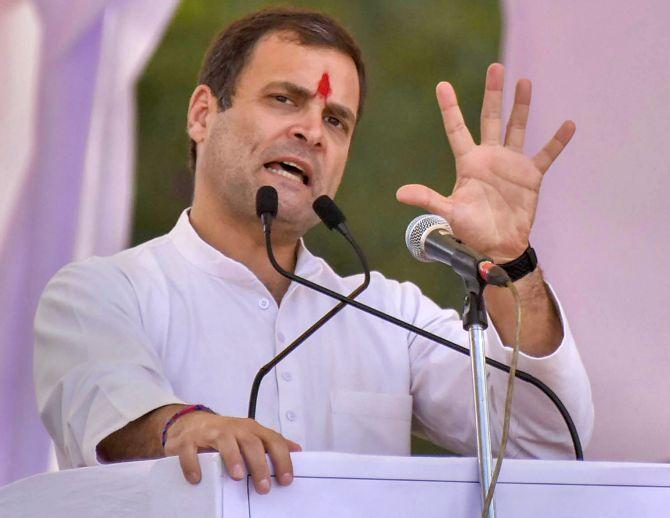 "I would like to make a differentiation here, we are supporting the government in Maharashtra but we are not the key decision-makers in Maharashtra. We are the key decision-maker in Punjab, in Chhattisgarh, Rajasthan and Pondicherry. So there is a difference between running a government and supporting a government," Rahul Gandhi said in a video press conference.
Rahul's remarks came a day after Maharashtra's former chief minister and Bharatiya Janata Party leader Narayan Rane met state overnor Bhagat Singh Koshyari, demanding the president's rule in the
state, saying Uddhav Thackeray-led Maha Vikas Aghadi government has failed to tackle the coronavirus crisis.
The MVA consists of Shiv Sena, Nationalist Congress Party and Congress. Shiv Sena MP Sanjay Raut on Tuesday slammed the Opposition and said that the coalition government in Maharashtra is strong and
rejected any possibility of the president's rule in the state.
Raut, in a tweet, said that "Corona's vaccine and the dose of toppling the Thackeray government by the Opposition is yet to be found."
"It would be right for the opposition to quarantine immediately," he added.
Maharashtra continues to be the worst affected state in the country with 52,667 reported cases and 1,695 deaths, according to the ministry of health and family welfare.
Fingers are being pointed towards the state government for allegedly failing to contain the spread of the deadly virus.
Continuing his attack on the Central government over spike in Covid-19 cases in the country, Gandhi said that the country is "facing the result of a failed lockdown".
"India is the only country where the virus is exponentially rising and we are removing the lockdown. The aim and purpose of the lockdown have failed. India is facing the result of a failed lockdown," Gandhi added.
He further said that the Congress party wants to understand what further steps the government is taking to control the crisis.
He also rubbished the Centre's claim that it had provided 10 per cent of the GDP as a relief to people amid lockdown and claimed that in reality less than one per cent of the GDP is being given, that too in loans.