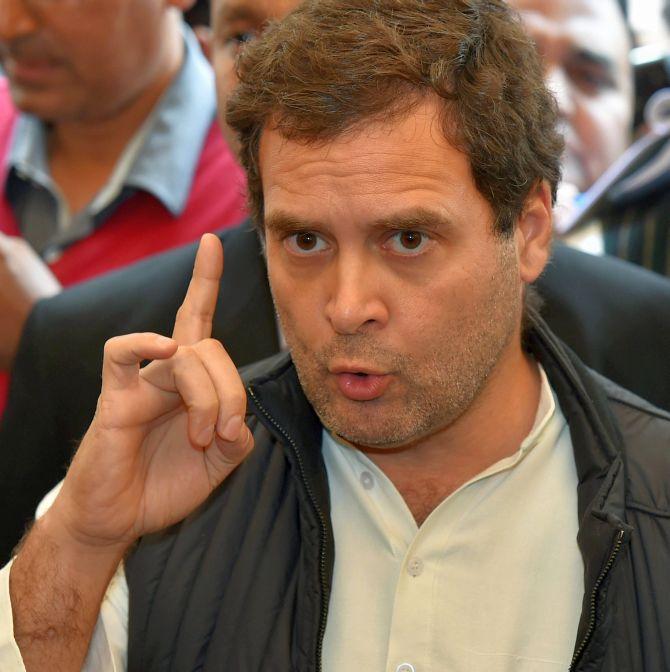 Congress president Rahul Gandhi on Thursday continued his attack on the government over the Rafale aircraft deal and said Prime Minister Narendra Modi was not answering his questions because there was something "fishy" about it.
Referring to Modi's speeches in Parliament on Wednesday, he said it was clear that the prime minister was not interested in answering "fundamental questions".
Defence Minister Nirmala Sitharaman, he said, had first announced that she would inform the nation about the cost of purchasing the Rafale aircraft but was now saying she could not do so as it was a state secret.
"Which of her two statements is correct," he asked.
Later in a tweet, Gandhi wondered why she had "changed" her stand. Was it to hide corruption or was it a bid to protect the prime minister or "Modiji;s friend", he asked.
"Why did the Raksha Mantri change her stance from: I will reveal the price of the RAFALE planes in Nov 2017 to the price is a state secret in Feb 2018. A) Corruption B) To protect Modiji C) To protect Modiji's friend D) All of above," he tweeted.
Gandhi said he had also posed three questions to Modi.
These included the aircraft's cost and "handing over" the deal to a businessman after "snatching" it from a public undertaking.
However, there was no reply, Gandhi said.
"There can be only one answer and it is that there is something fishy about this," he said.
The Congress has claimed that there is a huge scam in the National Democratic Alliance government's procurement of 36 Rafale fighter jets from France, a charge that the government has denied.
Image: The Congress president has claimed that there is a huge scam in the National Democratic Alliance government's procurement of 36 Rafale fighter jets from France, a charge that the government has denied. Photograph: Kamal Kishore/PTI Photo