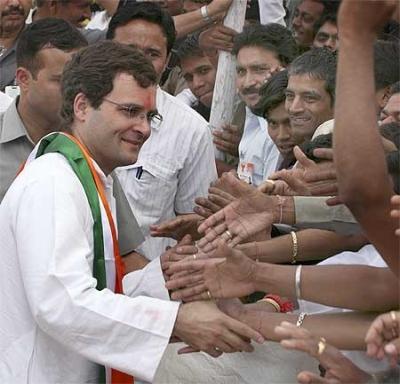 Noting that farmers are suffering due to problems in the food supply chain, Congress Vice President Rahul Gandhi on Monday said there is a need for ensuring better compensation for the farmers against their produce.
Rahul, who laid the foundation stone of a mega food park in Jagdishpur in Amethi, said that right from production of crops to their landing on the dinner table, the farmers, despite putting their maximum effort, get minimum benefit.
"While a farmer sells potato between Rs 6 to Rs 10 per kg, those who make potato chips sell it at Rs 400 per kg," Rahul said.
He further said that while Uttar Pradesh produces some famous varieties of mango, which are even exported to countries like the United States and Britain, the farmers who grow it get paltry returns.
The local Member of Parliament saw immense possibility in the development of Amethi as an agricultural hub.
"The thought is that whether its mango, mentha or aonla, whatever is produced in UP, maximum processing is done in Amethi. It should become an agricultural hub," he said.
The food park is being developed by the Aditya Birla Group and Rahul said the group will be investing Rs 200 crore in it.
He said that 50 units will be set up at the park which will provide direct jobs to some 2,500 people, besides giving indirect opportunities to 25,000 others and benefiting as many as 40,000 farmers.
Rahul said a cargo terminal can be set up at Fursatganj air strip in Rae Bareli, from where the processed food items can be send to other parts of the country.
The Congress MP said he fought for re-operating the Hindustan Paper Mill at Amethi and once inaugurated, it will provide employment to some 10,000 people.
Citing Bangalore's example, Rahul said the way it became a hub of the science-based industry after setting up of a HAL unit nearly 60-70 years ago, he hopes for a similar future for Amethi with this food park.
The function was also addressed by Union Minister of State for Agriculture and Food Processing Charan Das Mahant and industrialist Kumar Mangalam Birla.
Mahant said that in 1985, the then prime minister Rajiv Gandhi had dreamt of promoting the food processing sector and subsequently, the food processing department was set up under the Union agriculture ministry.
He said setting up of the food park in Amethi was like turning Rajiv's dream into a reality.
Referring to his old relationship with the Gandhi-Nehru family, Birla termed Rahul a symbol of expectations of the new generation, and said that the Congress vice president talks less about politics and more about development.
Birla said the Indo Gulf Fertilisers was set up in Amethi in the presence of Rajiv Gandhi and the mega food park is the next in the chain.