The threat of radical Islam and its terrorist offshoots can "upset" the international system, Israeli Prime Minister Benjamin Netanyahu said on Tuesday, batting for stronger ties between India and Israel to overcome the challenge.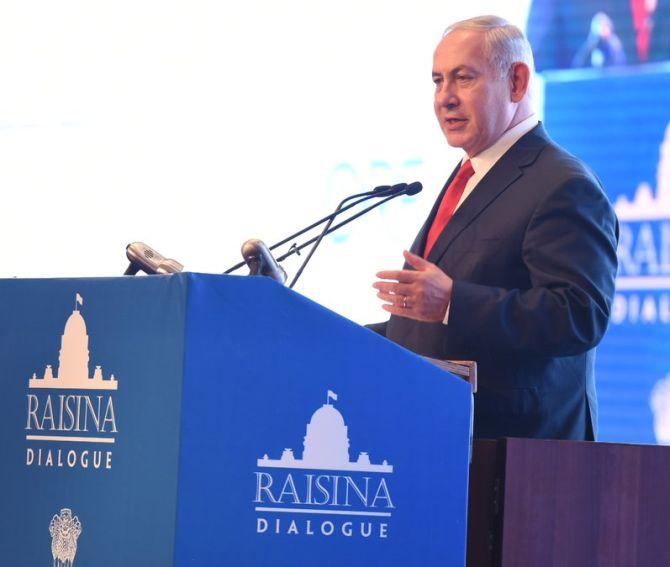 Addressing the inaugural session of the 'Raisina Dialogue' in New Delhi, Netanyahu hailed India as Israel's "natural friend and partner", drawing a wide smile from Prime Minister Narendra Modi, who was in the audience.
Netanyahu said closer ties between democracies was essential to secure the common future of humanity at a time "our way of life and the quest for modernity and innovation" are being challenged.
The Israeli PM will travel to Gujarat on Wednesday with Modi, who is the only Indian prime minister till date to have visited Israel.
"Most notably the quest for modernity, the quest for innovation is being challenged by radical Islam and its terorist offshoots from a variety of corners and this can upset the international system.
"One of the ways to overcome such a challenge is to strengthen the relation between our two great denmocracies. The alliances of democracies is important to secure our common future," Netanyahu said, addressing the inaugural session of the three-day conference where a range of geopolitical issues will be discussed.
Considering India's large Muslim population, New Delhi has always walked a tightrope in striking a balance between deepening its ties with Israel while trying not to upset its equation with Palestine, which shares a fractious history with the Jewish state.
India had last month joined 127 other countries to vote in the United Nations in favour of a resolution opposing the recent decision of the United States to recognise Jerusalem as Israel's capital.
Netanyahu began his 16-minute speech by identifying military strength, economic prowess and political power as the prerequisites for the development of a nation, factors which he said were behind the Jewish nation's rise from the "ashes".
"The weak don't survive, the strong survive. You make peace, alliances with the strong. You are able to maintain peace by being strong," he said.
Netanyahu, who arrived in New Delhi on a six-day visit on January 14, said Modi's July, 2017 visit to Israel "broke ground". "You were the first leader of India to come to Israel in 3,000 years. It will not take long for your next visit, I know that."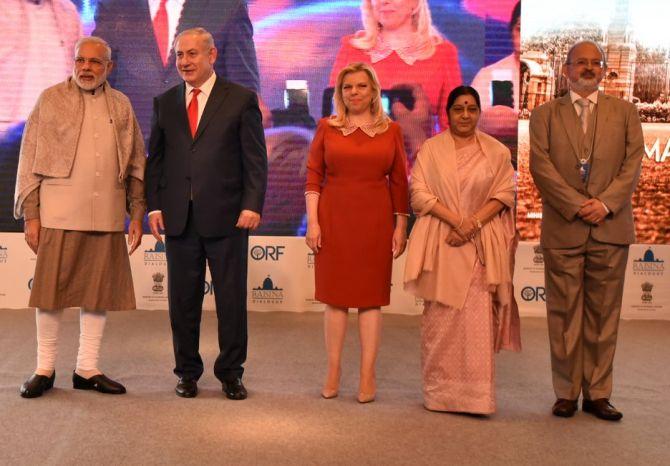 Earlier in the day, Netanyahu, accompanied by his wife Sara, visited Taj Mahal in Agra. Netanyahu referred to this trip in his speech to make a point about the "common value" of democracy that the two countries share.
Netanyahu said the democratic values of India and Israel ensure that people have the ability to think as they want, speak as they want, believe in what they want.
"We have a special relationship. We are naturally sympathetic to India. When I was walking the streets of Agra, somebody said we are so happy that you are friends with our prime minister. He said we are friends," Netanyahu said.
External Affairs Minister Sushma Swaraj also attended the inaugural session, and while delivering the vote of thanks, said the Israeli premier's visit to India underlines the celebration of 25 years of diplomatic relations between the two countries.
Foreign Secretary S Jaishankar, former President of Afghanistan Hamid Karzai, union ministers VK Singh, Jayant Sinha and Congress MP Shashi Tharoor were present at the event, organised jointly by the Observer Research Foundation and the MEA.
Netayahu said he found "astounding" the fact that under Modi, India has climbed nearly 42 spots in the ease of doing business rankings even as he stressed on the need to cut red tape to encourage businesses.
He said a government can both facilitate and block economic growth. Growth is possible when there is a free market, which facilitates innovation by business entities, he said.
He said to defend a nation, one needs a strong military, which in turn requires a lot of money. The money, he said, comes from a strong economy.
"Defence costs a great deal of money. The money comes from the second source of power, economic power...the third power is political power, which means the ability to make political alliances and relationships with many other countries," he said.
The theme of the dialogue this year is 'Managing Disruptive Transitions: Ideas, Institutions and Idioms'. The event has an impressive line up of more than 150 speakers and over 550 delegates.
Army chief General Bipin Rawat and Navy chief Admiral Sunil Lanba will address a session, along with Admiral Harry Harris, Commander, US Pacific Command, General Chris Deverell, Joint Forces Commander, UK, among others, on Wednesday.
Photographs: @narendramodi/Twitter