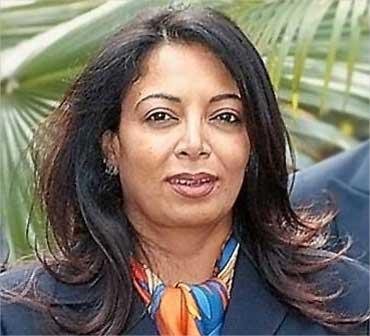 The Central Bureau of Investigation has informed Supreme Court that it has "so far" not found any criminality in the 14 preliminary enquiries registered on the basis of intercepted conversations of corporate lobbyist Niira Radia.
In its status report submitted to the apex court recently, the CBI has said most of the conversations were her bragging about connections but so far no concrete evidence has been found which could indicate her direct involvement in corrupt practices, CBI sources said.
The sources said Supreme Court will take cognisance of the status report next week when it would open after winter vacation.
They said CBI would seek from the Supreme Court one month's more time to probe the entire gamut of telephonic conversations which have been handed over to the agency by the Income Tax department.
The sources said the agency has also given details of examinations carried out by it while probing the 14 enquiries registered by it.
They said a journalist from a TV channel and a senior executive of a leading newspaper group have already been examined by the agency.
Besides, executives of Reliance, Unitech and Tata Motors have also been examined by the agency in connection with its enquiries.
According to the sources, several big names of journalism from print and electronic media and corporate world would soon be called by the CBI for gathering information on riminal aspects of those conversations.
The apex court bench headed by Justice G S Singhvi had ordered the CBI to probe 14 issues that were identified by the investigating agency after going through the transcript of the Radia tapes submitted to it by the income tax department.
The court has also referred one of the matters to the chief vigilance officer of the department of mines for investigation and another to the Chief Justice of India.
"Radia's conversations reveal deep-rooted malice by private enterprises in connivance with government officials for extraneous purposes," the Supreme Court had said.
Using strong words, the court had said the telephonic conversations suggest corrupt means being adopted by private parties to extract gains.