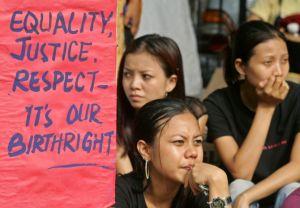 Blaming lack of sensitivity for increasing number of racial crimes in Delhi, Minister of State for Home Kiren Rijiju said racist attacks in the city were happening because society had not "really opened up".
Speaking at the seventh edition of 'Lead On', a leadership summit for senior school students at Tagore International School, Vasant Vihar, Rijiju also attributed the lack of connectivity and knowledge to racial differentiation in the country.
"Racist attacks in Delhi are happening because our society has not really opened up...Sensitivity is yet to be ingrained in the minds of our society. Dissatisfaction level is very high in the country," he said.
Union HRD Minister Smriti Irani, who was also at the event, while addressing students invited constructive suggestions from them about change in the nation's education policy.
"November 17 is International Student's day. I'm trying to evolve a concept called 'Ek Bharat Shreshth Bharat', taking education to the next level. You can send us ideas and tell us what students want from the education system of the country which can be discussed on Nov 17," she said.
Irani added she wants to devise a system where everyone from village leaders to school leaders will have a say in policy making.
The minister also briefed students about an online learning system which her ministry is working on.
"I'm trying to evolve an immediate relief platform and also to ensure that this platform is not just limited to computers screens and laptops, but is also mobile friendly.
"All the IITs, IIMs, Central Universities, NITs, ICARs are going to offer online courses free of cost for every Indian citizen. Those who want to learn can learn and in a case where you want a certificate will you go to the institute to sit for the examination and get a certificate on having passed that exam," said Irani.
The HRD minister also shared with the students details about the 'Credit Transfer System' which will be launched on Nov 11.
Under the scheme, which is meant for students from class 9 onwards, importance would be given vocational skills. It would provide students with enough credit to get back to the university anytime they feel right.
Madhulika Sen, principal of the school said that the ministers were invited in accordance with the theme of the summit, 'Power to Rise, Rise to Power' driven solely by the students.
© Copyright 2022 PTI. All rights reserved. Republication or redistribution of PTI content, including by framing or similar means, is expressly prohibited without the prior written consent.