Bernie Sanders swept to a huge victory on Tuesday by defeating Hillary Clinton in the New Hampshire Democratic primary for United States presidential nominee while Donald Trump solidified the front-runner status in the Republican party by scoring a big win in the race to the White House.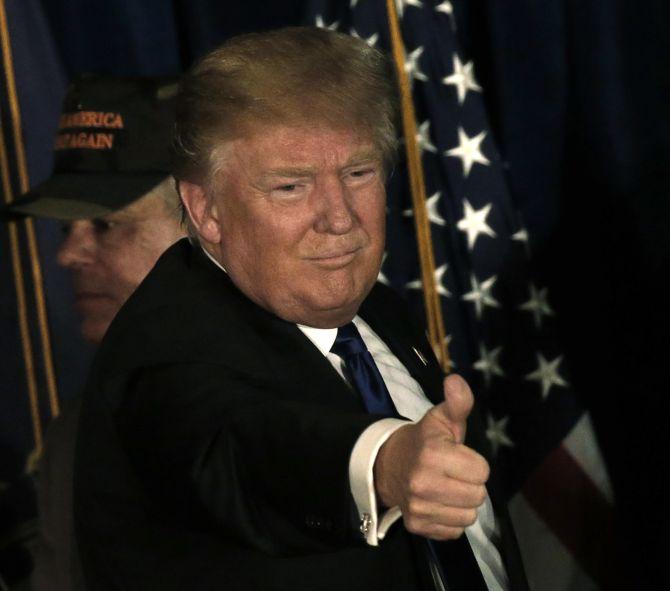 Republican US presidential candidate Donald Trump reacts at his 2016 New Hampshire presidential primary night rally. Photograph: Mike Segar/Reuters
Vermont Senator Sanders, 74, won the New Hampshire contest after Clinton conceded. With one-third of the Democratic votes being counted, Sanders had received 59 per cent of the votes as against 38 per cent received by 68-year-old Clinton.
Trump, 69, was leading runner up John Kasich, the Ohio Governor, by an inaccessible more than 18,000 votes and a margin of 18 per cent.
Republicans, including Texas Senator Ted Cruz, former Florida Governor Jeb Bush and Florida Senator Marco Rubio are now battling for a third-place finish.
With more than one-third of the votes counted, Cruz, who won the Iowa Caucus, had received 12 per cent of the votes, while Bush was following him closely with 11 per cent.
Trump, a brash billionaire reality TV star who has never run for office, and Sanders, a self-declared democratic socialist, were seen as long-shot outsiders when they launched their campaigns.
Their victories reflect deep bipartisan discontent at professional politicians and suggest that both the Democratic and Republican races will now be long struggles that could stretch well into the spring, CNN said.
The New Hampshire primary came as a shocking defeat for Clinton, who had won in the State eight years ago against US President Barack Obama. Till a few weeks, Clinton was leading against Sanders in all polls. Sanders described his win as "political revolution" while Clinton in an assertive speech after conceding defeat said that she is not giving up.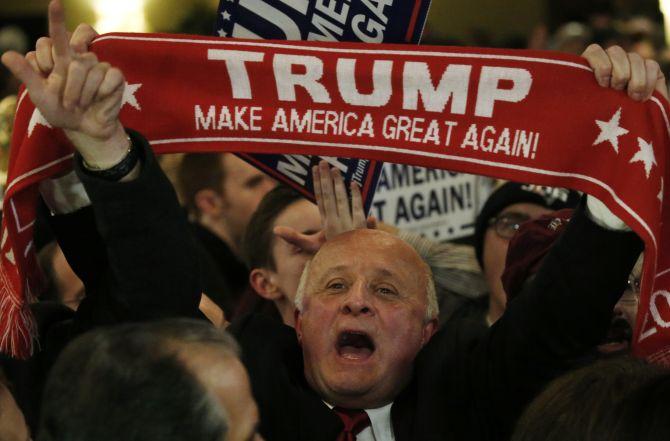 A supporter reacts as results state that Trump has secured victory in New Hampshire.
Photograph: Jim Bourg/Reuters
Trump appeared on stage with a beaming smile on his face and gave a thumbs-up to his crowd of supporters.

"We are going to make America great again," Trump said in his victory speech which he began by thanking his late parents, late elder brother and other family members.

Trump who is leading in all the national polls with impressive margin had received a stunning defeat at the hands of Cruz, the Senator from Texas, at the Iowa Caucus last week.

The race to White House now moves to South Carolina.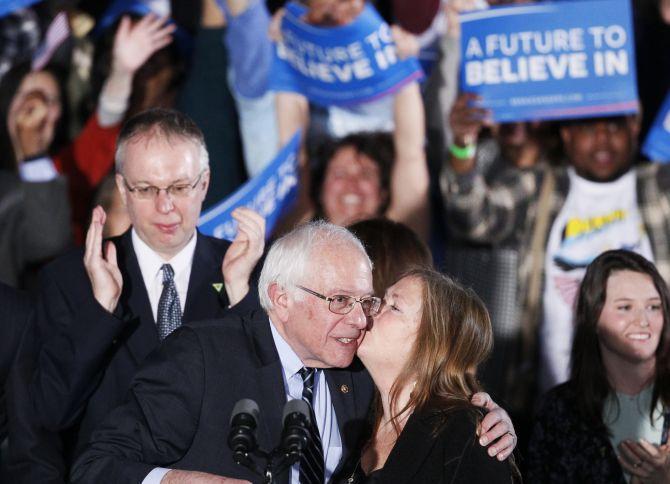 Democratic Bernie Sanders gets a kiss from his wife Jane after winning at his 2016 New Hampshire presidential primary. Photograph: Rick Wilking/Reuters
"He (Sanders) wants to give away the country folks, we are not going to let this happen," Trump told a cheering audience as he criticised the top Democratic winner in New Hampshire.
Continuing with his anti-China rhetoric, Trump said if he elected as the US president in the November elections, he would bring back the jobs from China, Japan and Mexico -- the countries which are taking away the jobs of the Americans.
"We have to make the deal for the American people," he said. Trump vowed to make the American military "so powerful" that no can "mess with us", and asserted that the US under him would have strong borders.

People would be welcomed legally and not illegally, he said vowing to build the wall along the Mexico border to prevent illegal immigrants from entering the country.

Describing Obamacare as total disaster, Trump said that he would repeal and replace this signature healthcare of the US President. "I am going to be the greatest jobs president that God ever created," he said and urged his countrymen not to believe in the "phony numbers" of unemployment rate of less than five per cent. "We are going to knock down ISIS," Trump said.
"We are going to start winning again. We are going to make America great again, greater than ever," he said.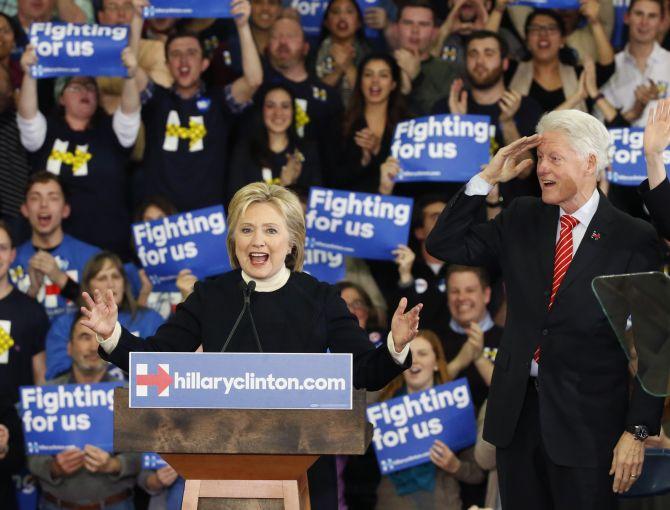 Democrat Hillary Clinton accompanied by her husband, former US President Bill Clinton, she speaks to supporters at her final 2016 New Hampshire presidential primary night rally. Photograph: Adrees Latif/Reuters
In her remarks after conceding the defeat, Clinton acknowledged that when she started her campaign last spring she knew that it is not going to be easy.

"Here's what we are going to do. Now we take this campaign to the entire country. We are going to fight for every vote in every state. We are going to fight for real solutions that make a real difference in people's lives," Clinton said, with the former president and her husband Bill Clinton standing by her side.
Addressing his enthusiastic supporters at a school gymnasium in Concord in New Hampshire, Sanders said the people have sent a message that the government in the country belongs to all of the people and not just a handful of wealthy campaign contributors.

The New Hampshire primary results came eight days after caucuses in Iowa, where Sanders fought Clinton to a virtual tie.

"Nine months ago, we began our campaign here in the Granite State," Sanders said. "We had no campaign organisation and we had no money. And we were taking on the most powerful political organisation in the United States of America, a team that defeated Barack Obama here in the Democratic primary in 2008," he added.

"And tonight, through a record-breaking voter turnout, we won because we harnessed the energy and the excitement that the Democratic Party will need to succeed in November," Sanders said.