If Sasikala wants to stay in active politics, she will have to go to EPS crawling, reports Aditi Phadnis.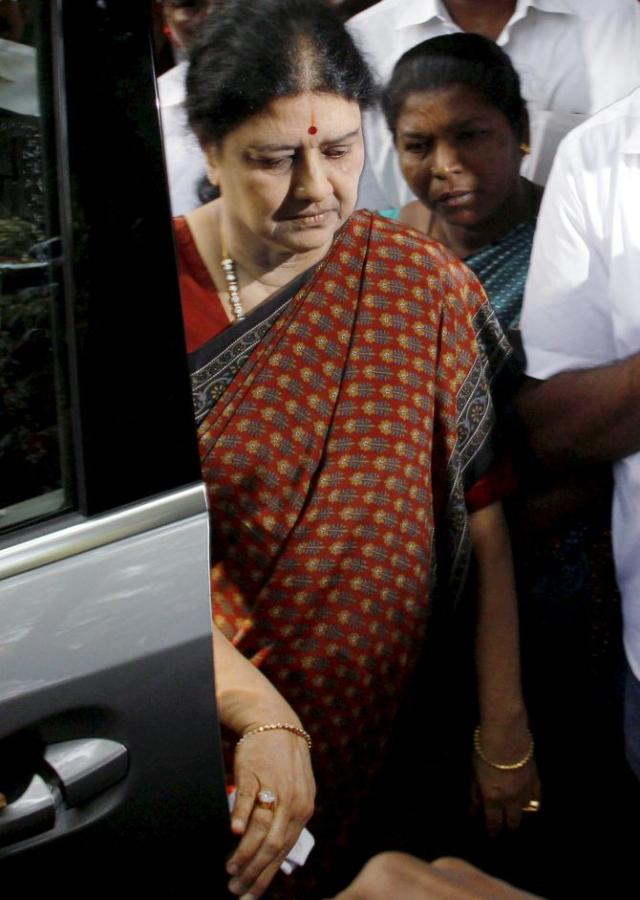 V K Sasikala -- friend of former Tamil Nadu chief minister, the late J Jayalalithaa, and from all accounts an important influence on the All India Anna Dravida Munnetra Kazhagam -- is out of jail.
She cannot contest this round of the assembly election or the next Lok Sabha election, on account of her conviction and subsequent imprisonment. But nothing stops her from being a behind-the-scenes actor and influencer of politics and political events. There is a lot of speculation about her future role.
Then there are those who ask: Okay, she's out of jail. But does it even matter?
Certainly, from what she was to what she is today, there is huge attrition.
To put it in context, Jayalalithaa and Sasikala met in the early 1980s. Sasikala from Mannargudi -- a biggish district town in Tiruvarur district -- belongs to the Thevar community. Her husband, Natarajan, was a public relations officer with the state information department. He encouraged his wife Sasikala to start a video parlour business to produce videos of political meetings addressed by Jayalalithaa. At that time, Jayalalithaa was a functionary in the party, later becoming propaganda secretary. The two women gradually became friends.
The friendship deepened after the death of M G Ramachandran. Jayalalithaa adopted Sasikala's family as her own and a nephew of Sasikala, Sudhakaran, grew so close that Jayalalithaa declared him her foster son. This tells us how lonely Jayalalithaa must have been and how intensely she must have felt towards her new-found family.
But emotional turbulence was never far from Jayalalithaa's life. In 2011, she disowned her foster son and a whole clutch of members of the Sasikala family from the AIADMK.
T T V Dinakaran and V Bhaskaran, also expelled, were sons of Sasikala's sister Vanithamani. All of them had gained from their proximity to Jayalalithaa: Dinakaran served as MP in both Rajya Sabha and Lok Sabha. Bhaskaran became managing director of JJ TV, the precursor to Jaya TV, the official channel of the AIADMK. S Venkatesh, a doctor also expelled, was the son of Sasikala's brother Sundaravadanan. He was the secretary of the party's youth wing and was seen as a prominent leader in the party. It was he who held parleys with the leaders of the alliance parties for the 2009 Lok Sabha polls, but was removed from his party post in September 2010.
That, it seemed was the end of Sasikala. But she was back a few months later, this time even more powerful than before, picking people to back, making moves in the party organisation and acting as Jayalalithaa's eyes and ears. For many, it seemed that Jayalalithaa had delegated all political authority to Sasikala.
In 2014, when Jayalalithaa was convicted in an income tax case and sent to prison, it was O Panneerselvam she chose, with Sasikala's backing, to be chief minister. The 2016 election saw the AIADMK forming the government again in Tamil Nadu. When Jayalalithaa was in the hospital, Panneerselvam held the fort.
But after the 2016 death of Jayalalithaa, the dam broke. The AIADMK was in power all right. But Edappadi Palaniswami formed his own faction in the AIADMK and laid claim successfully to become chief minister. Again, this had Sasikala's backing.
Edappadi made his peace with Panneerselvam, gradually whittling away at his MLA base. Meanwhile, Sasikala was convicted in a disproportionate assets case and sent to prison. Everything settled down to an uneasy co-existence of all factions: With Dinakaran being the only representative of Sasikala in the AIADMK.
Dinkaran did guard the fortress as best he could: Despite being reduced to a very marginal player in AIADMK politics, he managed to win Jayalalithaa's assembly constituency of R K Nagar with a thumping majority.
However, the political capital of that faction of the AIADMK has shrunk badly. If Sasikala wants to stay in active politics, she will have to go to EPS crawling. He, on his part, has made it clear that she will not be allowed back into the party.
There isn't much time for Sasikala to pull a rabbit out of the hat -- assuming there are any. Of the 234 assembly seats, the AIADMK plans to allocate 20-25 to the Bharatiya Janata Party, 30-35 to S Ramadoss's Pattali Makkal Katchi, 15 -18 for Captain Vijayakanth's Desiya Murpokku Dravida Kazhagam, and contest the rest on them on its party symbol -- smaller outfits will be given seats but on the AIADMK's "two leaves" symbol.
While the Palaniswami faction is still weighing the Sasikala factor, there is a question mark over Dinakaran's (and her) relevance. In the 2019 Lok Sabha polls, he managed 4 per cent of the vote share (between 10 and 15 per cent of the AIADMK's total vote bank), mostly in south Tamil Nadu where the Thevar community is considered powerful.
But this is contingent on getting the AIADMK symbol, which means a merger on EPS's terms. There seems to be little chance of that happening.
Coming weeks will seem many twists and turns in Tamil Nadu politics.