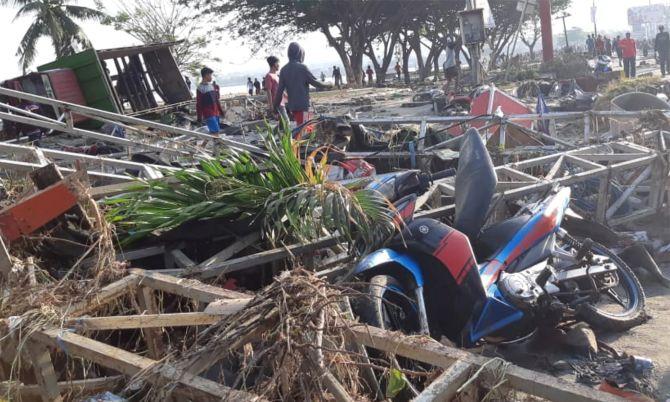 At least 384 people were killed while several others are missing when a powerful tsunami triggered by a magnitude 7.5 earthquake has hit the Indonesian island of Sulawesi on Friday, officials said Saturday.
The national disaster agency has put the death tall at 384 so far in in the tsunami-struck city of Palu.
Many bodies were found on Saturday along the shoreline of Palu, the scenic tourist town.
Strong aftershocks continued to rock the coastal city on Saturday morning.
There were also concerns over the whereabouts of hundreds of people preparing for a beach festival due to start on Friday evening, the disaster agency said.
Hospitals struggled to cope with the influx of injured, with many people being treated in the open air, while other survivors helped to retrieve the remains of those who died.
The tsunami was triggered by a strong quake that brought down buildings and sent locals fleeing for higher ground as a churning wall of water crashed into Palu, where there were widespread power blackouts.
Dramatic video footage captured from the top floor of a parking ramp in Palu, nearly 80 kilometres from the quake's epicentre, showed waves of water bring down several buildings and inundate a large mosque.
Indonesian president Joko Widodo said the military was being called in to the disaster-struck region to help search-and-rescue teams get to victims and find bodies.