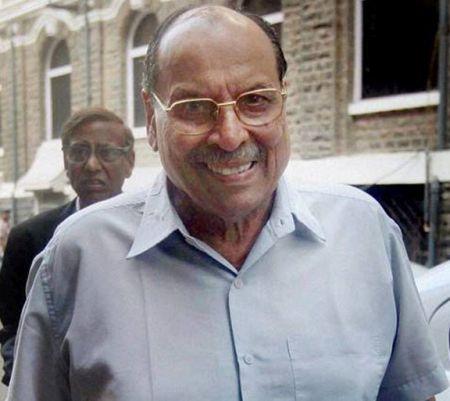 Former world billiards champion Michael Ferreira and three others were arrested by Hyderabad Police in connection with an FIR registered against them in the alleged multi-crore rupee fraud involving the multi-level marketing company QNet.
However, in a related development, the four including Ferreira, 78, moved the Hyderabad High Court and secured an order which stayed further investigation in the case till Monday, police said.
"We received information orally (about the order) to stay further investigations into the case. The stay order is till Monday," Assistant Commissioner of Police, Central Crime Station, G Jogaiah said.
"Now they (accused) have to show that order in a local court and then apply for bail. But, we will file an application opposing this order to enable us to take them into custody for further interrogation," he said.
Earlier, the CCS, a wing of Hyderabad Police, made a breakthrough in a case of cheating which involved QNet and its Indian subsidiary M/s Vihaan Direct Selling India Pvt Ltd, by arresting four directors of Vihaan, Deputy Commissioner of Police (Detective Department) Avinash Mohanty told reporters.
Michael Joseph Ferreira, Malcom N Desai, M V Balaji and Srinivas Rao, all directors and shareholders of Vihaan Direct Selling India Pvt Ltd who were earlier arrested in Mumbai by Maharashtra Police, were brought to the city on PT warrants and arrested, the DCP said.
On October 13 last year, a complaint was lodged by one Suman Ghosh, an assistant manager in a private bank here, wherein he stated that he paid Rs 16 lakh (via DD) in the name of Vihaan Direct Selling India Pvt Ltd, on the promise of getting business. But, they did not give him any business despite collecting the amount.
Based on the complaint, a case was registered under sections 406 (criminal breach of trust) and 420 (cheating) of IPC, besides relevant sections of Prize, Chits and Money Circulation Schemes (Banning) Act, Mohanty said.
He said during the course of investigation into the case registered, on October 8 (this year) they received an information from Economic Offences Wing of Mumbai Police that the four accused persons, who are directors of Vihaan Direct Selling India Pvt Ltd, were arrested and remanded in judicial custody.
Subsequently, Hyderabad Police filed an application at a court in Mumbai seeking their custody in connection with the case registered by them.
The Mumbai court then granted transit remand and the Hyderabad Police took Ferreira, a Padma Bhushan recipient, and three others into custody and brought them to the city late on Tuesday night.
It has come to light that several cases have been registered against QNet and its earlier companies in Tamil Nadu, Karnataka, Andhra Pradesh, Maharashtra, Delhi and Telangana states, Mohanty said.
Ferreira is a director of the accused company Vihaan Direct Selling India Pvt Ltd, which is a master franchise of M/s QNet in India.
Police is also probing into the allegations that QNet cheated unemployed persons and software engineers on the pretext of providing employment and business, he added.
Around 60 complaints have been received in the city against the company, police said.