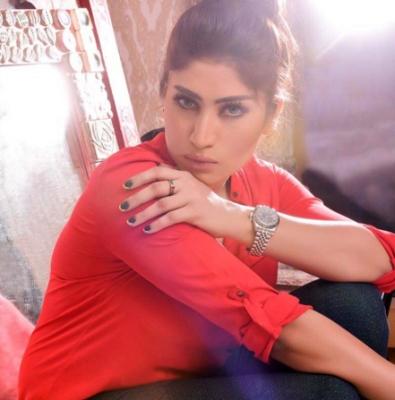 The brother of slain Pakistani social-media sensation Qandeel Baloch has told the police that two other relatives helped him in the 'honour killing' of his 26-year-old model actress sister, officials said on Friday.
Muhammad Waseem, who allegedly drugged and then strangled his sister to death for the 'honour of the family', underwent a polygraph lie detector test here and told the police that two other men were involved in Qandeel's killing.
Waseem said he made the plan to kill Qandeel with the assistance of a relative, Haq Nawaz, who was present when he strangled his sister while another relative Basit waited outside the house in a car, police said.
Wasim said that after killing Qandeel he and Haq Nawaz had fled in Basit's car to Dera Ghazi Khan from where he was arrested.
Police are said to be probing at least seven people in the killing of Qandeel who made headlines last month during the month of Ramazan when she posted suggestive videos and pictures of herself with a well known cleric, Mufti Abdul Qavi on her social media accounts.
Qavi, who was suspended from the Ruet-e-Hilal Committee in the controversy following the video posts, has also been included in the murder inquiry by the police.
Police said they had also detained two sister-in-laws of the slain model from Dera Ghazi Khan and also recovered her mobile phone from their ancestral home.
The government, through the police, has also instituted state cases against Wasim which bars Qandeel's family from forgiving her killer(s) which is the usual practice in honour killing cases in Pakistan.
Qandeel's 'honour killing' has sent shockwaves across the country and has led to fresh calls from civil rights and women's rights activists and the media to pass bills to protect women against violence and to classify honour killings as a capital crime.
Belonging to a working-class rural family from southern Punjab, Qandeel was an instant hit on television channels and social media with her provocative posts and sexually suggestive talk.
She faced regular insults and threats on her social media accounts from people, mostly men, offended by her independent assertions online.
Prior to her death, Qandeel, whose real name was Fauzia Azeem, spoke of worries about her safety and had appealed to the interior ministry to provide her with security.
In Facebook posts, she spoke of trying to change 'the typical orthodox mindset' of people in Pakistan.