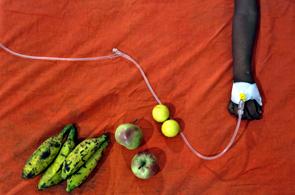 Sujit Kumar, Upendra Kumar Prasad, Nisha Kumari and Kajal Kumari are some of the many children who fell sick after consuming a meal laced with insecticide in their school at Gandaman village in Bihar's Saran district on July 17.
All of them are out of danger but still under treatment.
"I will soon return to my village. I heard people talking about the deaths of several children after eating mid-day meals in my school," said Upendra, 8, while playing in the children's ward of the Patna Medical College and Hospital.
Upendra and other survivors are still being administered Atropine, an antidote for Organo-Phospharous poisoning.
Upendra, along with over two dozen sick children, were rushed to the PMCH from Saran after consuming the poisonous meal that day.
"Two children died on the way to the hospital and two died during treatment," a hospital official informed rediff.com.
Pano Devi is the mother of Nisha, 5, and one of the cooks of the doomed school kitchen.
She has lost two of her children -- Rohit, 4 and Suman, 11 -- in the tragedy.
Nisha, informs Pano Devi, is doing well now and can't wait to go back home
She is still trying to grapple with the fact that a meal prepared by her and other cooks killed so many children, including two of her own.
"I fail to understand how and why it happened," she said in a choked voice.
PMCH superintendent Amarkant Jha Amar said the hospital has decided to gift new clothes to the children on the day of their discharge.
"We want to give them a warm send-off by gifting them new clothes and sweets," he told rediff.com.
According to him, the hospital administration has ordered for new clothes for the 18 girls and six boys admitted there.
The parents of these children have been informed that they would be discharged soon, he said.
But the doctors are apprehensive about the lasting effect of poisoning on these children.
"We are keeping a close watch on them and treating them with proper care," they said.
Last week, a report by a forensic laboratory confirmed the presence of traces of insecticide in the cooking oil used for making mid-day meals at the school.
Meena Devi, the principal of the school, was arrested by the Special Investigation Team and sent to judicial custody till August 5.
A first information report has been registered against her, charging her with murder and criminal conspiracy, police said.
According to district officials, Meena Devi had allegedly forced the cook to use contaminated cooking oil despite the latter's complaint about its pungent smell.
Image: A boy recuperates at the PMCH after falling ill due to the poisonous mid-day meal ' Photograph: Adnan Abidi/Reuters