Anti-incumbency sentiment in Punjab puts SAD in a weak spot. But voters remain divided over AAP and Congress. Sahil Makkar reports.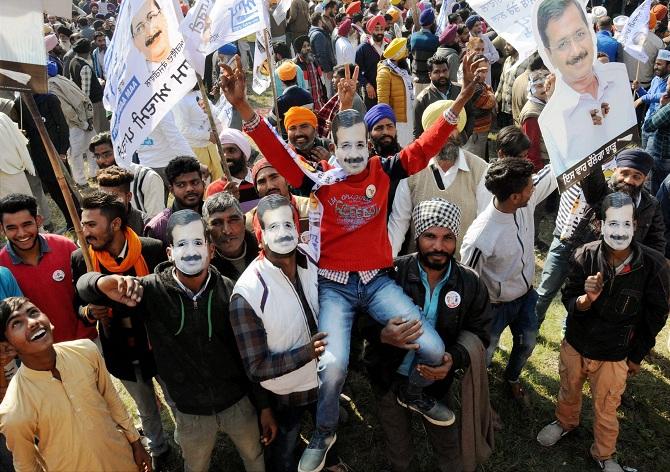 IMAGE: An AAP rally in Amritsar. AAP hopes to win all the anti-incumbency votes in Punjab, and is expecting a good percentage of traditional Congress voters to join it. Photograph: PTI Photo.

Some 114 km from Punjab's state capital Chandigarh, a group of men were engaged in an intense conversation in Jhande village of Ludhiana district.
The men mostly farmers, dairy owners and retired servicemen had gathered at village's chaupal after a day's work to discuss life and politics. Their conversation soon broke out in a heated argument when it came to voting for the party in the state assembly elections scheduled on February 4.
A few, who had earlier voted for the two traditional parties -- the Congress and the Shiromani Akali Dal (SAD) -- now want a change in Punjab and are ready to experiment with the newbie Aam Aadmi Party (AAP). But these advocates of the new party were immediately challenged by the traditional voters of the Congress with sound reasoning and a lone SAD supporter.
"We want to vote for a change, a new party and a new ideology. People have got tired of the SAD and the Congress in the past 70 years and now want to give five years to AAP," says Balbir Singh, an ex-serviceman.
He doesn't agree with Congress acolyte Baljeet Singh, a school teacher who believes that chief of AAP Arvind Kejriwal has betrayed Punjab on the controversial issue of the Sutlej-Yamuna canal link and his party candidates are novice.
Baljeet says he would have changed his preference had AAP declared a Punjab its chief ministerial candidate. "We cannot accept an outsider. The chief minister has to be a Punjabi with good image," he says, hinting at Delhi Chief Minister Kejriwal, who hails from the neighbouring state Haryana, and comedian-turned politician Bhagwant Mann.
The lone Akali supporter Sukhdev Singh, a Jat-Sikh who had been reluctant in joining the debate with the other squabbling men in the pack, finally broke his silence saying his family had always supported the cause of panth (sikh religion), and they still believed in Chief Minister Parkash Singh Badal, a champion of Sikh religion.
The other Sikhs agreed too that their old parents, too, would vote for SAD for the same reason.
Jhande village has around 1,600 voters and the villagers have got sharply divided between the Congress and the AAP because of the 10-years of anti-incumbency against the Badal-led SAD government.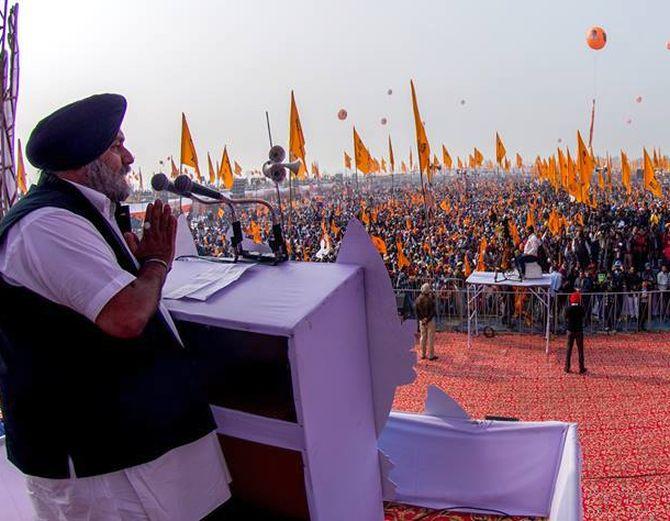 IMAGE: SAD's Sukhbir Singh Badal, Punjab's Deputy CM, at a rally in Moga. It is alleged that the Congress and SAD-BJP are having a friendly fight -- SAD fields weak candidates where the Congress is strong and vice-versa. Photograph: Courtesy Sukhbir Singh Badal/Facebook.

This story of division of votes repeats in most villages of Malwa, a cotton belt, which has 69 out of the total 117 assembly seats.
In the previous 2012 assembly elections, the Congress had won 31 seats with a vote share of 40.6 per cent and the SAD registered victory on 36 seats with 40.3 per cent votes in Malwa, which comprises of Rupnagar, SAS Nagar, Fatehgarh Sahib, Ludhiana, Moga, Ferozepur, Mukstar, Faridkot, Bhatinda, Mansa, Sangrur, Barnala and Patiala districts.
AAP hopes to win all the anti-incumbency votes, and is expecting a good percentage of traditional Congress voters to join it. AAP is drawing a large mass in its rallies, but so are the Congress and the SAD.
Though it is unlikely that SAD will loose a substantial vote share, what makes AAP more hopeful than the others was its performance in Punjab during the 2014 Lok Sabha elections. AAP had lead in 33 seats assembly segment and remained second on another six.
The other advantage that the party enjoys over the Congress and the SAD is early start of its campaign. While the AAP announced its candidates much before the polls, the other two parties could only finalize their contestants post poll announcement.
This gave AAP enough time to plaster every Malwa village wall with messages in Punjabi reading: "Kejriwal, Kejriwal… sara punjab AAP de naal (Kejriwal, all of Punjab is with AAP)."
"Their (AAP) candidates have already been twice to their respective constituencies and are doing door-to-door campaigning. We started late and got only 14-17 days of campaigning. We expect AAP to win anywhere between 30-35 seats, but there would be a tough fight on each of these seats," concedes Ashok Kumar, a senior Congress functionary in Bhatinda.
The Congress is worried that AAP has regained its momentum after the latter's graph went down following controversies surrounding the conduct of its senior leaders.
The schedule caste vote bank, which forms a formidable 32 per cent of the state population, of the Congress also seems to be slipping away in favour of AAP.
The biggest supporter of AAP has emerged to be youth, who don't carry the baggage of traditional loyalties to old parties.
"Akalis have spoiled Punjab youth because of drugs. Congress is the same, we youngsters have decided to vote for AAP," says Sanjeev Singla and his gaggle of friends in Pratap Nagar of Bhatinda.
Singla's parents, however, are convinced that only Congress can give a stable government to Punjab.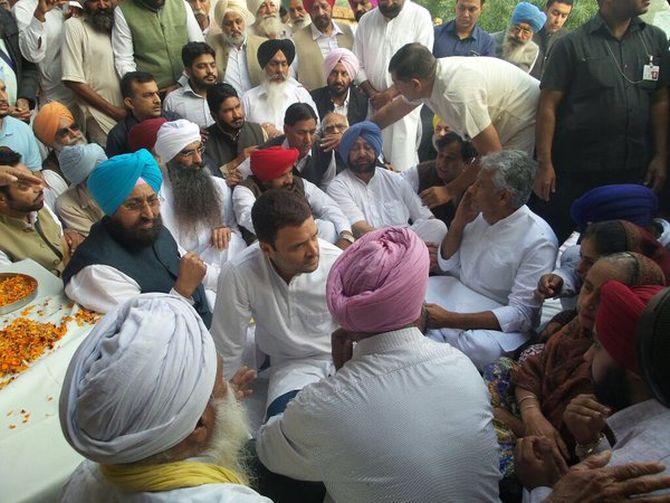 IMAGE: Rahul Gandhi in Faridkot. The Congress, too, has adopted multi-pronged strategy to counter the AAP phenomenon. Photograph: @OfficeofRG/Twitter.

The Congress, too, has adopted multi-pronged strategy to counter the AAP phenomenon.
Rumour mills are working full time in the state that the Congress and the SAD are having a friendly fight on most of the seats, meaning the SAD gave a weak candidate where the Congress candidate was strong and vice-versa. It is also alleged that the SAD-BJP, whose activists and posters are barely visible on the field, were transferring its vote to the Congress.
Captain Amarinder Singh, the chief ministerial candidate of the Congress, however has strongly refuted the charge in an interview to Business Standard.
What is working against AAP and in favour of the Congress is the internal fight within AAP. Those AAP workers who didn't get party seats or any other organizational post are openly badmouthing against the party and contesting candidate.
"AAP leaders took money from every possible candidate knowing well that they had to give it to only one. Most candidates are turncoats or don't enjoy a good public image. The rest are new faces. AAP will only get voted in the name of Kejriwal," says Mahesh Gupta, a former AAP functionary and resident of Jalandhar.
The open revolt by former AAP workers and a concentrated social media campaign against failure of the Kejriwal government in Delhi has slightly titled the scale in urban area towards the Congress.