Residents near the border have been asked to switch off lights at night.
Farmers whose agriculture land is beyond the fencing wire were ordered not to visit their fields.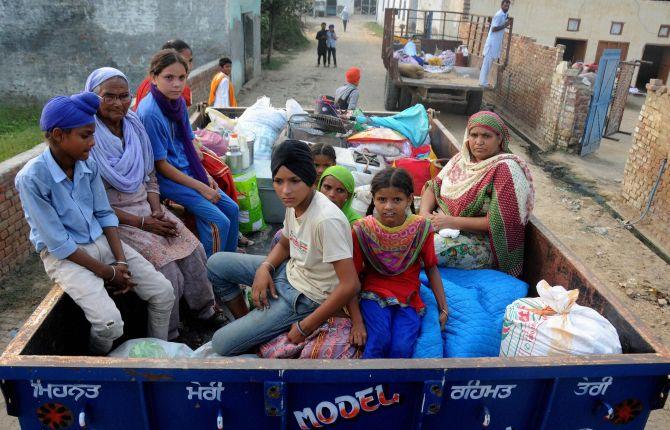 IMAGE: Villagers leave after the government asked people to vacate villages located within 10 km of the international border with Pakistan as a precautionary measure following India's surgical strikes in Pakistan occupied Kashmir. All Photographs: PTI Photo
Panic gripped the residents of villages in many border districts of Punjab, while a high alert was sounded in Rajasthan and Gujarat on Thursday, September 29, after reports of escalation in tensions between India and Pakistan spread, following a surgical strike by the Indian Army on terror launch pads in Pakistan occupied Kashmir.
The authorities began evacuating people living in villages located within 10 kilometres of the international border. Heads of local gurdwaras and temples with the help of village sarpanches asked the people to evacuate at the earliest.
The Border Security Force has put the international border on further alert after the Indian Army's surgical strike.
Punjab shares a 553 km border with Pakistan. It has six districts which lie close to the international border. Some 135 villages lie very close to the border.
In Rajasthan, four districts -- Bikaner, Jaisalmer, Barmer and Sriganganagar -- share over a 1,000 km-long border with Pakistan, while Gujarat shares a land and sea boundary with it.
Inhabitants of border villages in Amritsar district -- Rasoolpur, Bhania, Doekey, Bheropal, Hardo Rattan, Dhariwal Udhar, Dhaoney, Rajatal, Mahawa, Bachiwnd, Shahura, Kiralgarh, Chak Allahbaksh, Kakar Rania, Ajnala, Ramdas -- have begun evacuation.
A similar situation prevailed in the border villages of Patti, Khemkaran, Gazal, Khalra, Nausher Dhalla, Mehndipur, Ratokey, Chhina, Muthiawall in Amritsar's adjoining Tarn Taran district.
The emergency wing at the Pathankot civil hospital has been vacated. Patients undergoing treatment there have been shifted to other wards.
"Eight beds will remain vacant for any war-like emergency," Pathankot's Senior Medical Officer Dr Bhupinder Singh said.
Shiromani Gurdwara Prabandhak Committee President Avtar Singh Makkar directed the heads of all the gurdwaras in villages to accommodate people leaving their homes.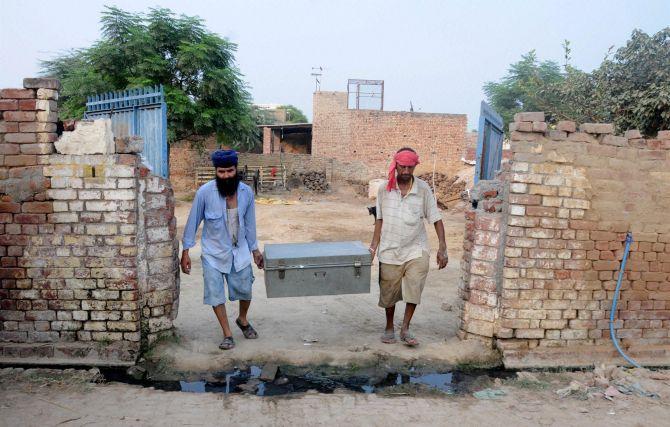 IMAGE: As news about the evacuation spread in Dera Baba Nanak town, there was panic and chaos.
People in Naushehra Dhalla village in Amritsar, which is very close to the international border, said they are unhappy about being displaced again. They said the village faced tough times in the 1965 and 1971 wars.
"Human beings can be moved, but what about our crops and animals," asked Angrez Singh.
People in villages in Ferozepur district close to the border were asked to evacuate their homes at the earliest. Schools within a 10 km radius of the border were shut down for an indefinite period.
The Ferozepur district administration is working on contingency plans to set up relief camps in schools and community centres. The health department has been directed to keep adequate stock of medicines and emergency drugs.
"We are in a state of panic and are scared," Kulwant Singh, a resident of Kamalewala village, said, adding that following the announcement of an evacuation he packed his baggage and left home.
Jaspal Singh, a youth from village Hastewala, who along with his wife and two children left the village, said he is scared and will stay with relatives in Ferozepur city.
After getting orders about the evacuation of residents from all the 32 villages that fall under the Dera Baba Nanak sector, Batala Senior Superintendent of Police Daljinder Singh dispatched police parties to these villages, appealing to the villagers for immediate evacuation.
Farmers whose agriculture land was beyond the fencing wire were ordered not to visit their fields.
Residents in places near the border have been asked to switch off lights at night. The authorities also made arrangements to disconnect power supply to the border villages at night.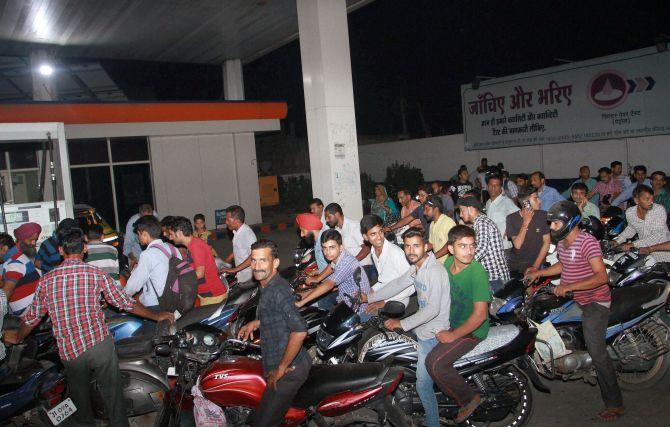 IMAGE: Long queues at a petrol pump in the R S Pura sector close to the border in Jammu. Most petrol pumps and ATMs in border villages witnessed long queues.
In Rajasthan, inspector generals of police, district collectors and superintendents of police have been asked to take stock of the situation.
BSF spokesperson Ravi Gandhi said patrolling in the border areas has intensified. "The force was already alert and the vigilance has been further enhanced," he said.
Rajasthan Home Minister Gulab Chand Kataria, the state chief secretary and home secretary held a video conference with the officers and issued directions.
No village has been evacuated in the border areas, Rajastan Chief Secretary O P Meena said.
Amid the heightened tension between the two nations, Mayo College in Ajmer has called off a scheduled event which featured a Pakistani delegation. 38 students and teachers from Pakistan were scheduled to arrive at Mayo College between October 2 and 5.
A high alert has been sounded in Gujarat, Deputy Chief Minister Nitin Patel said.
Three districts of the state -- Kutch, Banaskantha and Patan -- share a boundary with Pakistan.
"Our officers are in constant touch with the BSF and Coast Guard. The police in the border districts have stepped up patrolling," Patel said.
The coastal police has been asked to vigilantly monitor movement on the high seas, Patel added.
"The Centre has given us a directive to evacuate people from villages within a 10 km area of the border with Pakistan. But none of our villages are located in a 10 km range from the border. Our villages are almost 25 km away from the border," Patel said.
IMAGE: Border Security Force personnel asked visitors to return after the beating the retreat ceremony was suspended at the Attari-Wagah border on Thursday.
Gujarat Chief Minister Vijay Rupani reviewed security arrangements in the state, especially in the districts bordering Pakistan.
The state government, Rupani said, has instructed the administration in the districts bordering Pakistan to provide all necessary assistance to the BSF, Coast Guard, navy and army.
The state Anti Terrorist Squad and Quick Response Team along with the Gujarat police have been put on high alert for the Navratri festival, Rupani added. Special security arrangements are being made to protect vital installations in the state, especially ports and refineries located in the border districts.
Maharashtra Chief Minister Devendra Fadnavis has directed the state police to remain alert and take the required security measures.
"I have reviewed the security measures two days ago," Fadnavis, who is also the state's home minister, said, adding, "Today we sensitised and alerted all (police) commissioners, inspector generals of police and superintendents of police to take all measures."