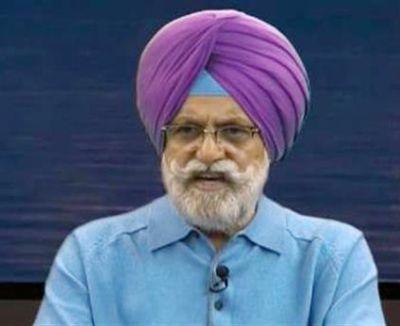 Punjab minister Rana Gurjit Singh has been accused by opposition parties of acquiring sand and gravel mines through benaami transactions in the name of his company's cook and staff, a charge denied by him.
The Aam Aadmi Party demanded sacking of the state irrigation and power minister while the Shiromani Akali Dal and the Bharatiya Janata Party demanded a probe into the matter.
However, Rana Gurjit denied the charges saying neither he nor his company - Rana Sugars Limited - has any direct or indirect stakes in sand mining business.
Notably, a week back, a two-day e-auction of sand mines in Punjab culminated with bids worth Rs 1,026 crore secured for 89 mines, the highest ever earnings for the state from sand mining sector.
Senior SAD leader Prem Singh Chandumajra said the minister, who had allegedly openly abused his authority to indulge in "naked illegality", should be prosecuted under relevant sections of the Income Tax Act.
"The case should also be handed over to the Enforcement Directorate for probe as someone who was making 'paranthas' till last night has outbid 32 other bigwigs to acquire a Rs 26.51 crore mining site," the SAD MP alleged in a statement.
Informing that his party would raise the issue in Parliament, he said the state government should answer why it was "letting cooks and employees of Rana Gurjit, who were paid a couple of thousand as salary, to participate and win auctions by submitting bids of Rs 50 crore".
"This amounts to encouraging benaami bids through hawala transactions which are even a threat to national security," Chandumajra said.
Citing media reports, Tarun Chugh, the national secretary of the BJP said, "Rana Gurjit Singh's cook and other employees getting mining contracts worth crores is a classic example of what the Congressmen are up to."
"His cook Amit Bahadur got sand mines worth Rs 26.51 crore in Saidpur Khurd of Nawanshahr. It is surprising as to how a person, cooking meals in Rana's Sugar Mill could participate in an auction and strike a deal worth over Rs 26 crore," he said.
Alleging that the entire auction was an eyewash and reminiscent of the Congress's "deceit and doubles standards of saying one thing and doing the other", Chandumajra said it was condemnable that the state apparatus was used to further the business interests of the Congress minister.
Asserting that the Congress government in the state was to blame for it, he said, "Action should also be taken against officials responsible for these lapses. It should also be ascertained as to what pressure was put on these officials to facilitate these bids."
However, Rana Gurjit claimed that neither his family members nor employees have any links with sand mining business and termed as "incorrect" the reports in a section of the media which claimed that two of his company employees had successfully bid for sand mines.
He said the employees in question had left their jobs a long time ago, which can be verified from the company's records.
"Though I am personally not involved in the day-to-day functioning of my companies for the last two decades, I can say with command and confidence that neither any person working in these companies nor any of my family members has any interest or stake in sand mining business in Punjab," the minister said.
"The fact that some of my former employees reportedly bid for the mines does not in any way imply that I have interests or stakes in the business," Rana Gurjit said.
"There are thousands of employees who have worked with me and left from time to time and I cannot be held accountable for what they do after leaving my companies," he said.
Claiming that his businesses has an annual turnover of more than Rs 1,000 crore, Rana Gurjit asked, "With business already running in hundreds of crores of rupees, does it make any sense to indulge in a business of a few crore rupees?"
Leader of Opposition in Punjab Vidhan Sabha H S Phoolka demanded Chief Minister Amarinder Singh immediately remove Rana Gurjit for allegedly indulging in wrong practices and "acquiring benaami contracts from the state government".
"Amarinder is keeping his eyes closed. He should explain his silence that what is stopping him from taking action against Rana Gurjeet Singh?" he said.
Meanwhile, H C Arora, local lawyer, wrote to the Enforcement Directorate seeking investigation into the matter.
He said as the money invested in these mining contracts is "benami" property, it attracts action under The Benami Transactions (Prohibition) Amendment Act, 2016.
"The amount invested into these mining contracts may involve hawala transactions also. This is a serious matter which requires investigation by Enforcement Directorate," Arora said in his letter.