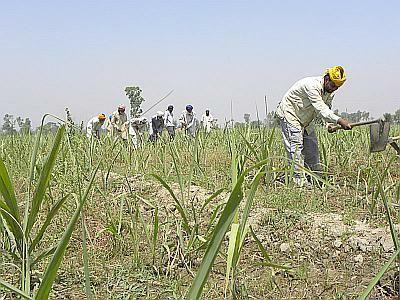 A debt-stressed farmer, who recently met Rahul Gandhi and told him about agrarian problems, on Wednesday allegedly committed suicide by consuming poisonous substance.
The family of the farmer 60-year-old Surjit Singh, a resident of Dadumajra village, claimed that his debt was mounting and he was unable to pay back the loan from bank and others.
Surjit Singh, 60, had taken a loan of Rs 10 lakh from bank and other persons but could not repay, the family claimed.
He also could not get good yield from his crop due to unseasonal rains in March and April this year.
The farmer had cultivated his land taken on lease.
Singh had met Congress Vice-President Rahul Gandhi during his Sirhind grain market visit in April this year.
According to state Congress leaders, Surjit Singh had briefed Rahul Gandhi about the problems faced by Punjab farmers that included problems in selling their paddy and famers committing suicide.
Rahul had after his recent Punjab visit raised the issue of farmers in Lok Sabha.
When contacted, Fatehgarh Sahib SSP Gurmeet Singh Randhawa said the police registered a case under Section 174 (suspicious death) of CrPC in farmer's suicide case.
Randhawa said that the family of the farmer had told the police that he was under "depression".
Congress' Deputy Leader in the Lok Sabha Amarinder Singh said "the situation calls for "agriculture emergency" to tackle the agrarian crisis "lest it is too late".
Punjab Congress President, Partap Singh Bajwa, who attended the cremation of the deceased on Wednesday evening, asked Narendra Modi government to provide succour to beleaguered farmers rather than focus on "anti-farmer land legislation (Land Bill)".
Image used for representational purposes only