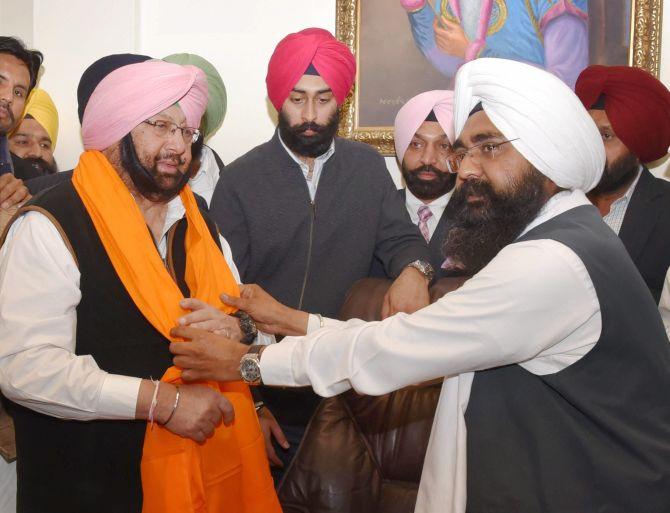 Captain Amarinder Singh, who took over as the chief minister of Punjab on Thursday, would hold the charge of home affairs and some other departments while senior minister Brahm Mohindra has been allotted the health ministry.
Navjot Singh Sidhu, about whom there was much speculation that he was in the reckoning for deputy chief minister's post, has been given the Local Government Department and Manpreet Badal is the new Finance minister of Panjab.
On the advice and recommendation of Chief Minister Amarinder Singh, after being sworn-in, the Punjab Governor V P Singh Badnore on Thursday allotted portfolios to the newly inducted ministers, a Chief Minister's Office spokesperson said in Chandigarh.
He said that Amarinder would hold the portfolios of general administration, personnel, home affairs and justice, vigilance and other departments not assigned to any other minister.
Mohindra, senior most minister after Amarinder, has been given the portfolios of Health and Family Welfare, Research and Medical Education and Parliamentary Affairs.
Sidhu has been allotted the portfolios of local government and tourism and cultural affairs, archives and museums.
Manpreet has been assigned the departments of finance, planning and employment generation. An estranged nephew of former chief minister Parkash Singh Badal, Manpreet had earlier held the finance department in the erstwhile Akali government in 2007.
Forests, Printing and Stationery, Welfare of SCs and BCs would be looked after by Sadhu Singh Dharamsot.
Tript Rajinder Singh Bajwa has been given the charge of rural development, panchayats, water supply and sanitation while Rana Gurjit Singh has been allotted the irrigation and power portfolio.
Charanjit Singh Channi has been allotted the charge of Technical Education and Industrial Training.
Meanwhile, Aruna Chaudhary, minister of state (Independent Charge) has been assigned the portfolios of higher education and school education.
Another Minister of State (Independent Charge) Razia Sultana has been allotted the portfolios of PWD (B&R), Social Security & Development of Women and Children (Independent Charge).
After guiding the Congress to a resounding victory, Amarinder Singh was on Thursday sworn-in as the Punjab chief minister along with nine ministers.
He took charge of his new office at the Punjab Secretariat in Chandigarh amid multi-religious prayers.
The second floor office of Punjab's 26th chief minister reverberated with the chanting of sacred hymns from the Bhagwad Gita, the Guru Granth Sahib, the Quran and the Bible as he entered it along with several of his newly inducted ministerial colleagues, MLAs and associates.
This is the second time that Amarinder will occupy the Punjab chief minister's stately office. He had earlier been the chief minister of the state from 2002 to 2007.
After assuming charge, Amarinder said he was committed to fulfilling all his electoral promises and his government would take several important decisions at its first cabinet meeting scheduled on Saturday.
He reiterated his promise to constitute a Special Task Force to wipe out the drug menace from the state within four weeks, as promised in the Congress poll manifesto.
IMAGE: Punjab's new Chief Minister Captain Amarinder Singh is presented with a saropa before assuming the charge of office in Chandigarh on Thursday. Photograph: PTI Photo