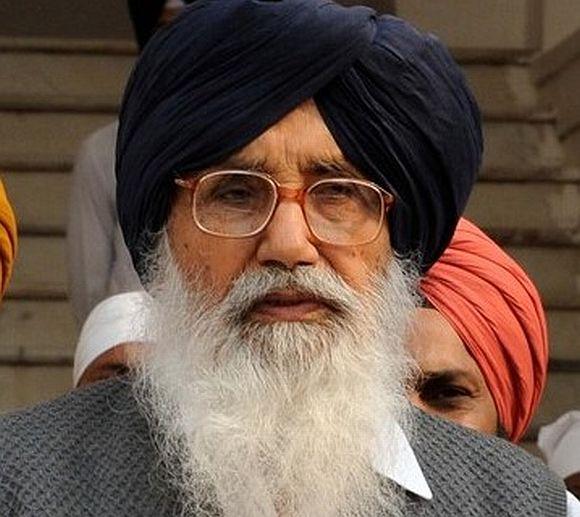 Eight Punjab cabinet ministers and a senior bureaucrat were found to be "absent" from office during a surprise check on Tuesday by Chief Minister Parkash Singh Badal.
The check was carried out by Badal on the third and sixth floors of the Punjab Civil Secretariat in Chandigarh at 9:00 am, an official spokesman said. Among the ministers found missing were Bikram Singh Majithia (information and public relations), Adesh Pratap Singh Kairon (food and civil supplies), Parminder Singh Dhindsa (finance) and Sharanjeet Singh Dhillon (irrigation).
Four ministers belonging to Shiromani Akali Dal ally the Bharatiya Janata Party -- Anil Joshi (local government), Surjit Kumar Jiyani (health), Chunni Lal Bhagat (forest) and Madan Mohan Mittal (industries) -- were also found to be absent when Badal turned up to check.
Principal Secretary (General Administration) Sanjay Kumar, too, was absent from his office, the spokesman added. The Badal government has 18 cabinet ministers, the chief minister included.
The spokesman said that the surprise inspection by Badal was aimed at ensuring decorum and discipline in the government to enable fulfilment of the state government's commitment regarding prompt delivery of services.
Badal requested the ministers to ensure their presence in office to discharge official work and urged officers/officials to remain available in office from 9 am to 5 pm for the convenience of the general public.
Last month, 18 of the 22 deputy commissioners and 22 of the 24 senior superintendents of police -- heads of the administration and police departments in the districts of Punjab ---- had been found absent during surprise checks done by the office of the chief minister.
It is, meanwhile, learnt that cabinet ministers such as Tota Singh (agriculture), Ajit Singh Kohar (transport), Sohan Singh Thandal (tourism and jails) and Surjit Singh Rakhra (water supply and sanitation), were among those found to be present in their office during the check by Badal, the spokesman added.
-Agencies