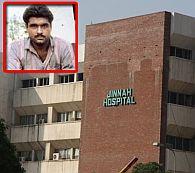 The murder of Indian death row convict Sarabjit Singh in a Pakistani jail has the potential to impact bilateral relations and authorities must punish everyone responsible for his death, the Pakistani media said on Friday.
News of the brutal attack on Sarabjit in Lahore's Kot Lakhpat Jail last week and his death on Thursday figured on the front pages of most Pakistani dailies on Friday.
Sarabjit, 49, died of a cardiac arrest after being comatose for nearly a week, following the attack by other prisoners on April 26.
The front page report in the The Express Tribune said, "After spending 22 years, eight months and three days in a Pakistani prison, Sarabjit Singh returned to India on Thursday not to be reunited with his family, but to be laid to rest."
An editorial in the Tribune, titled Sarabjit Singh's tragic end, said, "It is not enough to just go after the prisoners who attacked him but the jail authorities must be dealt with an iron hand as well."
Sarabjit's safety and well-being was the responsibility of the Pakistani State, it said.
The Tribune warned that the incident could affect relations between India and Pakistan.
"In order to avoid a diplomatic row, it is hoped that the government will conduct a proper inquiry," it said.
Though it was not clear whether the attack was pre-planned, it was a "matter of grave concern that an Indian prisoner, whose lawyer had repeatedly warned of serious threats to his life, was beaten to pulp in a Pakistani prison".
A "transparent investigation" should focus on the role of jail authorities so that they can be "taken to task", the editorial said.
Following the hanging in Delhi of Afzal Guru over a terrorist attack on Parliament in 2001, several rights groups and Sarabjit's lawyer had asked Pakistani authorities to increase his security.
The News, in its editorial, said the "long-drawn-out story of Sarabjit Singh has ended in tragedy" though his execution was postponed several times thanks to a campaign for his release.
But there are "questions that need to be answered" and all those responsible for the attack must be identified, it said.
"It is also important that we investigate why he was not granted better security -- especially since this is not the first case of an Indian inmate being badly manhandled in jail," The News said.
"But looking beyond issues of diplomacy and politics, the fact is that a man has met a brutal end. This has happened because of Pakistani authorities' abject failure to keep Sarabjit safe even after his lawyers had complained of threats to his life. The matter needs to be followed up for the sake of justice, even if Sarabjit himself will never benefit from it," the daily said.
The Dawn, in its editorial titled Prisoner at risk: Attack on Sarabjit Singh, questioned why the Indian national was not provided better security despite facing serious threats.
"It's a case of the syndrome from which Pakistan is frequently found to suffer: not taking care when there is time and then trying to patch up matters when they have gone wrong," it said.
While calling for overall reforms of Pakistan's overcrowded prisons, the Dawn said Sarabjit's case was different as it had political and diplomatic overtones.
"The question that prison authorities must answer is why Sarabjit Singh was not considered a prisoner at risk," it said.
The attack could "easily have been prevented had jail authorities been more vigilant".
Sarabjit was convicted of alleged involvement in a string of bombings in Punjab province that killed 14 people in 1990.
His mercy petitions were rejected by the courts and former President Pervez Musharraf.
The previous Pakistan People's Party-led government put off Sarabjit's execution for an indefinite period in 2008.
Sarabjit's family says he was the victim of mistaken identity and had mistakenly strayed across the border in an inebriated state. Pakistani rights activists too had called for the reopening of his case.
© Copyright 2023 PTI. All rights reserved. Republication or redistribution of PTI content, including by framing or similar means, is expressly prohibited without the prior written consent.