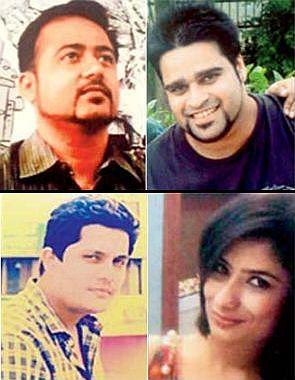 The mystery surrounding the disappearance of four advertising professionals, including a woman, from Pune last week finally broke silence after the body of one of the missing was fished out of the Neera river along Pune-Satara road on Wednesday.
Police officials said that the body of 28-year-old Chintan Buch was recovered from Neera river near Sarola village.

Police though are still groping in the dark about the whereabouts of the remaining three persons -- Pranav Lele (29), Sahil Quereshi (28) and Shrutika Chandwani (27).

The four professionals were working with a communications and marketing firm in Bhusari Colony at Kothrud.
Buch and Quereshi live with Lele in his flat at Arjun Rekha Apartments, Veerbhadranagar, Baner. While Buch hails from Vadodara in Gujarat, Quereshi is from Ujjain in Madhya Pradesh.
The four left Baner in Lele's silver-coloured i20 at 11 pm on Friday. Chandwani was to get off at her home in Kolhapur after which the other three would have headed for Goa.
The police said they planned to visit Gokarn and Mahabaleshwar after Goa.
The police said the car (MH-12/FY-4510) passed the Khed-Shivapur toll plaza around 2.30 am on Saturday. "After that the car has not been traceable. None of the four cell phones are reachable," said inspector Shrikant Navale of the Kothrud police station.
Navale said his team has checked whether the car had met with an accident.
"We checked with the Pune rural, Satara, Sangli and Kolhapur police too. No accident involving such a car has been reported since Saturday. The police also carried out a search by helicopter for two days in the Varandha ghat section near Bhor and in the ghat near Mahabaleshwar. But the aerial searches too yielded nothing," he said.
Navale said that before leaving Pune, Lele had visited his parents' home in Kothrud and told them about the trip.
"He also said that they would be dropping Chandwani at Kolhapur along the way," he said. The call records of all four showed that they had met at Baner around 10.30 pm on Friday and left Baner around 11 pm.
Chandwani's phone was traced till Kapurhol, a few km ahead of Khed-Shivapur, around 2.45 am. After that, their cell phones could not be reached. On Saturday, when none of them could be contacted, Lele's father Ashok lodged a complaint with the Chatushrungi police station.