Days after the PTR audio files created a flutter in Tamil Nadu's political circles, Chief Minister M K Stalin on Tuesday dismissed as 'cheap politics' the clip, in which his cabinet colleague and the state finance minister is purported to have made some remarks about the assets of the Dravida Munnetra Kazhagam's first family.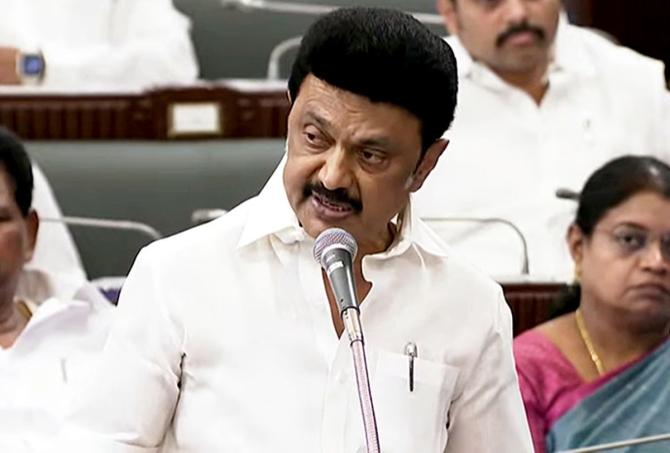 In his first response to the issue, Stalin, president of the ruling DMK, said Palanivel Thiaga Rajan (PTR) has already responded to the matter twice.
"He (PTR) himself has given two detailed explanations on this matter. I have time only to do my duty for people. I do not want to talk anything further on this and give publicity to those indulging in cheap politics," Stalin said in his regular 'Ungalil Oruvan' question and answer series.
In two audio clips released by state Bharatiya Janata Party chief K Annamalai last month, PTR is purported to have made some remarks about Stalin's son Udhayanidhi and son-in-law V Sabareesan, which the finance minister has categorically denied.
He had insisted that they were digitally altered material using advanced technology.
To a question on Union Home Minister Amit Shah's recent remarks in Telangana that Muslim reservation will be done away with if the saffron party came to power there, the DMK chief said it showed 'a grudge on minorities'.
"He has spoken so for electoral gains. The BJP leadership has an imagination that only spewing hatred on Muslims will satisfy Hindus. It is not true. The majority of our electorate that did not vote for BJP is actually Hindus.
"They wish for peace and brotherhood. The BJP attempts to impose its hate agenda on some sections and project it as the sentiments of the majority," he alleged.
He charged the BJP's 'social media troll army accounts' act as the propaganda machine to spread lies and fake news and also claimed certain media organisations 'have turned to be the mouthpiece of' the saffron party.
"The BJP pushes its hate politics with the help of such factors. In a country that has secularism in the preamble of its Constitution, the home minister speaking like this is a breach of Constitution. People are watching everything," he added.
"We believe people's conscience will not sleep," Stalin added.
On the government led by him set to complete two years in office later this week, Stalin expressed joy and satisfaction over delivering not only on a majority of the promises made ahead of the 2021 assembly polls but also many new welfare initiatives launched after the party came to power.
On the issue of alleged delay in Governors' nod for state bills, he referred to the bill passed in the Tamil Nadu Assembly seeking for a timeframe for their approval and expressed joy that certain other non-BJP ruled states were willing to follow suit.
"Tamil Nadu is the capital for federalism. The bill was passed on that basis," he added.
To a question on alleged irregularities pointed out by the Comptroller and Auditor General of India (CAG) in certain sectors during the previous All India Anna Dravida Munnetra Kazhagam regime, Stalin said appropriate action will follow.