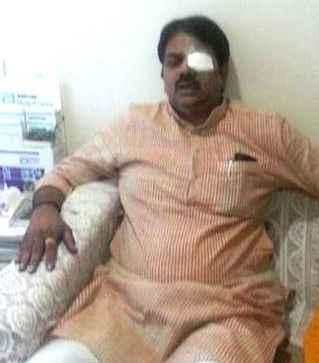 Maharashtra cooperation minister Harshvardhan Patil on Friday suffered an eye injury after some activists from Dhangar community threw ink at him at a function at Bhigwan Pune's Indapur tehsil.
Dhangar community leaders have launched an agitation for inclusion in scheduled tribes category and benefits of reservation. Pune rural police said two persons were detained for interrogation after the incident.
Patil was treated at a hospital in nearby Baramati for pain in his left eye. The incident took place when Patil stepped off the podium during the function and was accosted by protesters.
The minister, a Congress leader, later appealed to party workers who staged a protest in Indapur (his home constituency) to maintain peace and cooperate with police. Patil said that the ink apparently contained some chemical, which was causing pain and irritation in his left eye. "I have always demanded justice for Dhangar community, and have been supporting it," he added.
Devidas Deshpande adds from Pune:
The markets remained closed in Indapur, Bhigwan and nearby areas after the attack left Patil with an injured eye. The Congress party had given a call for the bandh. The Mumbai-Hyderabad highway was also closed for a brief period. The situation is tense but under control, said the police.
The Dhangar community members are agitating all over Maharashtra for their inclusion in the ST category and reservation benefits. The community is especially strong in Baramati and Indapur areas. The agitation of the community became intense after the Maharashtra government recently announced reservation for Marathas and Muslims.
After one of his pre-scheduled programs, Patil sat in his official vehicle. At that time, three persons came to him, hence he pulled the window pane of his vehicle down. Suddenly, one of the persons threw the liquid on him. Earlier it was reported that the ink was thrown on him but later Patil himself said that it was fungicide.
The police immediately arrested two of the persons -- Sachin Gopal Malgunde and Dadasaheb Manik Thorat.
After a brief treatment at a private hospital in Pune, Patil told reporters that the fungicide first caused irritation in his eyes and then pain. "It left holes on my shirt and police personnel's uniforms also. This is a wrong way of protesting. People have the right in a democracy to protest but it is not right to make personal attacks," he said.
Meanwhile, Mahadev Jankar, leader of the Rashtriya Samaj Party, which is leading the agitation, condemned the attack. He said that his workers were carrying out the agitation in peaceful way.
Image: The minister after the incident
Photo: Devidas Deshpande