Hindu right-wing activists staged a protest on Tuesday and the Gujarat government ordered a probe after Hindu students were allegedly asked to perform namaaz as part of an awareness programme at a private school in Ahmedabad.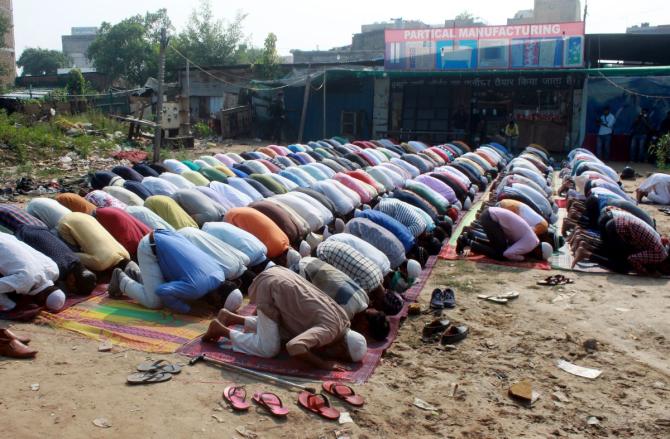 Videos of the protest showed a teacher being beaten up.
The state government ordered an inquiry into the programme organised at Kalorex Future School, located in Ghatlodia area of the city, on September 29.
The intention behind organizing the program in question was only to make students aware of the practices of different religions and no student was forced to perform the Islamic prayer, the school said, while also tendering an apology.
In a video of the event, which was later removed from the school's Facebook page, a student of the primary section can be seen performing namaz. Then, four other students join him in singing 'Lab pe aati hai dua', a prayer, in the Islamic way.
Activists of the Akhil Bharatiya Vidyarthi Parishad, Bajrang Dal and other right-wing organisations staged a protest on the school premises.
"It seems that some people want to disturb the peaceful atmosphere of the state by organising such programs in schools. Students who took part in that program may not be even aware what exactly they were doing. This is not at all acceptable," said minister of state for primary, secondary and adult education Praful Pansheriya.
"We will conduct an investigation to find out the mentality and intention behind organising such a program and then appropriate action will be taken. We will not spare those who have done anything wrong," the minister added.
"We came across a video which showed that Hindu students of this school were forced to perform namaz during an activity. Following our protest, the school management has tendered an apology and also given an assurance that such activities will not be conducted in the future because only Hindu students have taken admission here," said Meet Bhavsar, Gujarat ABVP's media coordinator.
A teacher seen playing a musical instrument in the event's video was thrashed by the activists as well as angry parents during the protest on Tuesday, some viral videos showed. No police case had been registered in this regard yet.
In a written apology, the school management said they will be careful next time.
School principal Nirali Dagli said it was the tradition of the school to make students aware of different religions and religious practices ahead of festivals.
"In view of Eid, we had organised this activity for the students of standard II to give them information about the festival. We carry out such activities ahead of festivals of all religions, including Samvatsari and Ganesh Chaturthi. No student was forced to perform namaz. It was just a two-minute activity, and the students who participated had taken consent from their parents," she told reporters.