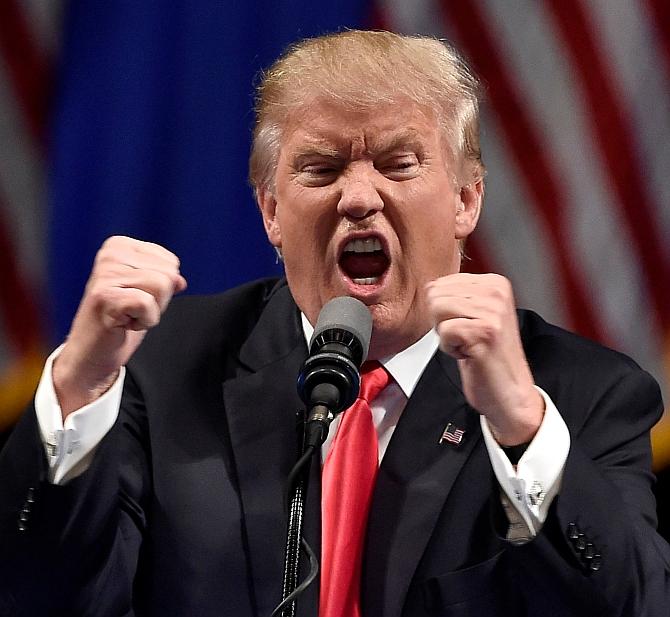 United States President Donald Trump on Tuesday described as a hoax the allegations about his campaign's connection to Russia and said that the intelligence panel should probe Bill and Hillary Clinton's 'ties' to the country instead of his campaign advisers' links.
'Why isn't the House Intelligence Committee looking into the Bill & Hillary deal that allowed big Uranium to go to Russia, Russian speech...money to Bill, the Hillary Russian 'reset', praise of Russia by Hillary, or Podesta Russian Company,' Trump said in a series of tweets.
Trump in his tweet claimed Clinton, who was his rival in the presidential race, allowed uranium to go to Russia while she was secretary of state. His allegations derive from Russia's nuclear power agency buying a controlling interest in a Toronto-based company, which has mines and mills in the US.
'Trump Russia story is a hoax. #MAGA!' he wrote.
The opposition Democratic leadership in the Congress seeking the resignation of the House Intelligence Committee David Nunes alleging that he briefed Trump on classified intelligence matters without sharing the information with other members of the committee.
Trump and his White House team have spent weeks fending off allegations of inappropriate connections between the Trump campaign and Russian intelligence officials.
Critics have maintained that Trump or his top advisers colluded with Russian officials to steal and leak emails from the in-boxes of high-ranking Democrats in the Clinton campaign and on the Democratic National Committee. No evidence has emerged to support those allegations.
The White House said it has asked both the House and Senate intelligence committees to review the information and the allegations.
"What I can tell you through his public comments is that he has said that he had multiple sources that he came to a conclusion on. So to the degree to which any of those sources weighed on the ultimate outcome of what he came to a decision on, I don't know. And that's something that, frankly, I don't even know that he discussed with the President," White House Press Secretary Sean Spicer told reporters.
© Copyright 2023 PTI. All rights reserved. Republication or redistribution of PTI content, including by framing or similar means, is expressly prohibited without the prior written consent.