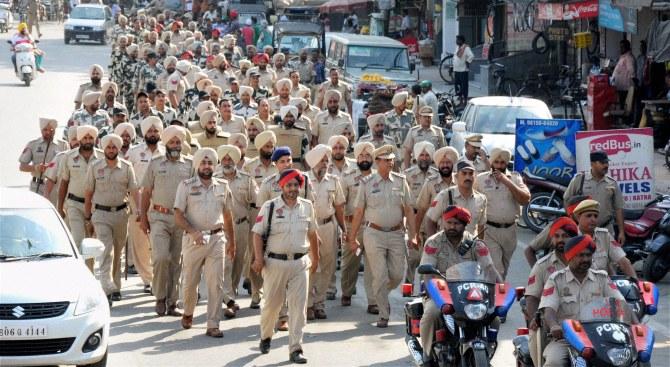 Image: Police personnel taking out a flag march from Hall Bazar to Golden Temple on the 6th anniversary of Operation Bluestar in Amritsar. Photograph: PTI Photo
The 31st anniversary of Operation Bluestar on Saturday went off peacefully amid tight security arrangements here even as Shiromani Akali Dal (Amritsar) supporters raised pro-Khalistan slogans at the Akal Takht.
Supporters of the SAD (Amritsar), led by former Member of Parliament Dhian Singh Mand, assembled at GoldenTemple and raised 'Khalistan Zindabad' slogans besides brandishing swords.
As many as 25 Sikh youths were detained, the police said. Tight security arrangements were made by the Punjab police to prevent any untoward incident. Policemen in civil dress along with Shiromani Gurdwara Parbandhak Committee task force were present on premises of the Golden Temple, officials said.
Heavy barricading was done by the SGPC officers around Akal Takht to prevent entry of any suspicious element to disturb peace, the police said.
SAD President and former MP Simranjit Singh Mann could not reach Akal Takht because of ill health. On the occasion, the family members of slain militant leader Jarnail Singh Bhindrawale were honoured by Akal Takht Jatehdar Giani Gurbachan Singh.
Addressing the gathering, Jathedar Akal Takht said, "Sikh community will, all over the world, remember the unhealed wounds of Operation Bluestar."
Memorial made in the memory of those killed during Operation Bluestar in 1984 witnessed sizable footfall of devotees on Saturday.
Radical Sikh group Dal Khalsa has called for Bandh in the memory of those killed during the Operation in June 1984 in Punjab. Security forces in Amritsar and other areas of the state were asked to remain on alert ahead of the anniversary.
Punjab police personnel conducted a flag march in Amritsar on June 4 in areas leading to the Golden Temple Complex where the Operation Bluestar was undertaken in 1984 to flush out militants.
Punjab police sources had said that the security personnel in the districts have been asked to remain extra alert in view of the killing of a Sikh youth during protests in Jammu yesterday against the removal of posters of Sant Jarnail Singh Bhindranwale.