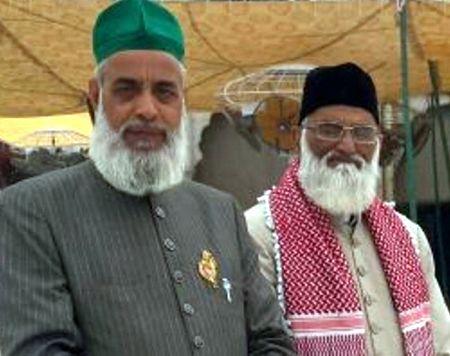 Pakistan on Friday conveyed to India that it was "seriously pursuing" with its law enforcement agencies the case of two missing Indian clerics, an issue External Affairs Minister Sushma Swaraj said has been taken up with the "highest level" in the Pakistani government.
Foreign Office spokesperson Nafees Zakaria said in Islamabad that, "no clue to the missing Indian priests has been found so far" but Pakistan was "pro-actively pursuing" the case.
In a series of tweets, Swaraj said the Indian High Commission in Pakistan has taken up the matter of missing Indians -- Syed Asif Ali Nizami, the head priest (Sajjadanashin) of Hazrat Nizamuddin Aulia Dargah, and Nazim Ali Nizami -- at the highest level in the government of Pakistan.
"We have also contacted their host in Karachi who appears to be under pressure not to speak to the Indian High Commission. I am in constant touch with our High Commission. However, there is no official confirmation regarding their whereabouts," she said.
India is pursuing this further with the Pakistan government, Swaraj said.
Responding to a tweet from a Pakistani who said she had met one of the clerics at the Nizamuddin dargah in Delhi last year and the Pakistanis in general hold all Sufi descendants in high esteem, Swaraj said, "I hope Government of Pakistan shares your feelings and helps in locating them."
Official sources in New Delhi said Pakistan has conveyed that it was "seriously pursuing" the case with its law enforcement agencies.
"Indian nationals Syed Asif Nizami aged 80 years and his nephew Nazim Ali Nizami had gone to Pakistan on March 8, 2017," Swaraj said earlier.
"We have taken up this matter with Government of Pakistan and requested them for an update on both the Indian nationals in Pakistan. Both are missing after they landed in Karachi airport," Swaraj tweeted earlier in the day.
Zakaria also said, "We have asked all departments concerned to look into the matter", noting that the Foreign Office had received the request of the Indian government to trace the two clerics.
The duo had gone to Karachi to meet their relatives on March 8 before travelling to Lahore to visit the Daata Darbar shrine. Exchanges between clerics of the Nizamuddin Dargah and the Daata Darbar are part of a regular tradition.
Meanwhile, the police chief of the southern Sindh province said that there was no record of the missing clerics.
IG Police A D Khawaja told the media in Karachi that he had the special branch, which deals with foreigners who come to Karachi, check the whereabouts of the two Indian clerics.
"I can tell you that we have found no record of these clerics reaching Karachi via air or railway and we have checked all possible avenues. Indian nationals who come to Karachi have to come for police reporting. Which these two clerics didn't do," he said.