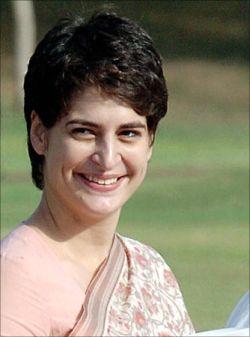 The Bharatiya Janata Party on Tuesday said Priyanka Gandhi "turning active" in politics is an internal matter of Congress but it will not improve the party's poll prospects.
"This is an internal matter of the Congress. As far as BJP is concerned our leadership is very clear and our aim is to get a majority in 2014 polls.... Going by the performance of the party, I don't think there is going to be any difference in the Congress poll prospects," BJP spokesperson Sudhanshu Trivedi told reporters.
He was asked about Priyanka Gandhi attending a meeting of Congress leades today at Rahul Gandhi's residence and whether her "turning active" in politics will affect the party's prospects.
Trivedi said the people have seen what all has happened under UPA rule, and the assembly election results were just one indicator of their anger. "The rest will be evident in the Lok Sabha elections," he said.
Asked about reports of Rahul Gandhi having hired a foreign agency for an image makeover, BJP said it has no such information.
Queried if Congress has accepted the "failure" of Rahul Gandhi and is now trying to bring in Priyanka Gandhi, Trivedi said, "Congress has been destablised after the results of assembly elections. We will react when they have a stable mindset".
Priyanka Gandhi was present at a meeting of senior leaders held at the residence of Rahul Gandhi, who is expected to be made party's PM candidate for the next Lok Sabha polls just four months away.
While Congress officially sought to play down Priyanka's presence in the meeting, the development has created flutters as it gave indications of her playing a more significant role in the 2014 Lok Sabha elections.
© Copyright 2022 PTI. All rights reserved. Republication or redistribution of PTI content, including by framing or similar means, is expressly prohibited without the prior written consent.