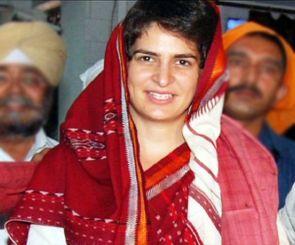 Priyanka Gandhi Vadra will campaign only in Raebareli and Amethi, Congress said on Monday putting at rest speculation about her larger role in electioneering across the country for the Lok Sabha polls.
Party sources, however, said that she will coordinate the country-wide tour programmes of Congress President Sonia Gandhi and Vice President Rahul Gandhi.
"She will campaign only in Raebareli and Amethi," AICC General Secretary and Chairman of Communication Department Ajay Maken said replying to queries.
Priyanka's meeting with top Congress leaders earlier this week at the residence of her brother Rahul had created a flutter in political circles, triggering speculation whether she is in for a major role ahead of the Lok Sabha polls.
Sonia Gandhi's political secretary Ahmed Patel, Union Minister Jairam Ramesh, AICC general secretaries Madhusudan Mistri, Janardan Dwivedi, Ajay Maken and party ideologue Mohan Gopal were present in the meeting.
There was speculation on whether Priyanka will assume an active political role to perk up Congress performance in the elections, particularly in the context of the recent drubbing it received in the Assembly polls.
Congress had since then, however, downplayed the issue of Priyanka's presence at the meeting, saying she has been active in Congress politics and questioned the surprise in political circles over her interaction with senior leaders.
There has also been talk in recent months on whether Priyanka, who has so far confined her politics to campaigning for her mother in Raebareli, would take a plunge into politics full time.
At the AICC briefing, party spokesperson Raj Babbar said, "The matter ends if the Chairman of the Communication Department has given a statement. The Chairman has told you about the decision of the party. There is no need to say anything further on it."
He was replying to a query on Maken's statement regarding Priyanka not campaigning beyond Raebareli and Amethi.
Priyanka, 42, has had a role in nurturing Raebareli and visits Amethi for campaigning for her brother during elections.
"We should let Priyanka Gandhi decide it. So far, she has been taking interest only in the two constituencies. She has always been very categorical that she will restrict her role to the two constituencies.
"She has on date decided that she wants to restrict herself in guiding election campaign in Amethi and Raebareli like the previous two-three parliamentary elections," a party leader speaking on the condition of anonymity had earlier said when asked about the possibility of Priyanka's political role going beyond the two constituencies this time.
© Copyright 2020 PTI. All rights reserved. Republication or redistribution of PTI content, including by framing or similar means, is expressly prohibited without the prior written consent.